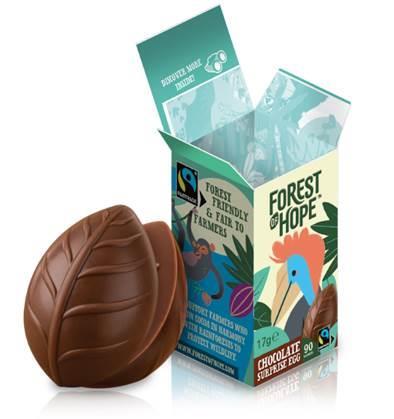 Fairtrade chocolate brand Forest of Hope has a nine-strong range of milk chocolate, nut-free surprise eggs, each with a different animal on its carton from the Gola rainforest.
Each egg will open to reveal a surprise animal moulded inside, which lives in the Forest of Hope, as well as fun animal designs on the outer carton. The eggs also contain over thirty exciting challenge cards to collect, family activity games to complete and educational facts to enable children to learn more about the animals that live in the forest. The packaging is 100% recyclable and additional activities and facts are printed on the reverse of the carton. The 90kcal eggs (rrp 85p) are available in Co-op stores nationwide.
Forest of Hope fairly trades with cocoa with farmers in Sierra Leone who grow their cocoa in harmony with the Gola rainforest to protect it and its endangered wildlife, whilst creating a livelihood for farmers families and building local communities.
Tara Stevens, brand manager, said: "We are so excited to launch Forest of Hope, bringing something new and exciting to the children's confectionery market, whilst also creating a more hopeful future for the planet that appeals to the new generation. Forest of Hope is forest friendly, fair to farmers and fun for families. We are so proud to have created a plastic-free, delicious chocolate product, that delivers innovation and education while also supporting cocoa farmers in Sierra Leone."