Kellogg's is moving into portable granola smoothie bowls and breakfast toppers to attract shoppers who are looking for a cereal option to eat on-the-go.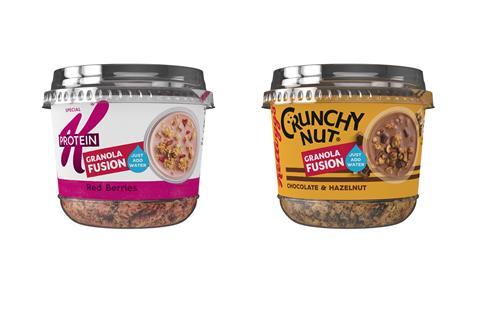 Launching in February 2020, the Kellogg to Go range includes a Crunchy Nut hazelnut & chocolate granola smoothie bowl and a Special K protein granola smoothie bowl (rrp £1.59).
The bowls will be joined by three portioned toppers, including Kellogg's Crunchy Nut hazelnut & chocolate granola; Protein Special K red berries; and All Bran berry crunch (rrp 60p).
The portfolio of NPD is designed to capitalise on demand from consumers shopping for an early morning bite, breakfast at work or eat at their desks.
The new granola smoothie bowls feature a just add water recipe and require no milk. Kellogg's is encouraging retailers to position the bowls next to bottled water in store to encourage linked purchases.
The new topper portfolio is aimed at those who like to customise their breakfast or regularly add cereal to things like yogurt. Kellogg's is planning to merchandise the range on clip strips so retailers can hang the products next to fruit or the chiller, for example.
Aimee Cowan, Kellogg's UK activation brand lead said: "Toppers are a growing trend, as these can be added to yoghurts, porridge and other morning goods. We think this will be a really great opportunity to extend Kellogg's footprint within breakfast occasions."
Speaking about the target consumer, Aimee added: "We hope by tapping into cereal on-the-go we will open Kellogg's up to a much broader demographic who are looking for the most convenient way to start the day with breakfast."
The rollout of the Kellogg to Go range follows the soft launch of Joybol in 2018, which will now be included in the cereal giant's portable portfolio.