Kellogg's is launching an All Bran Prebiotic range into the cereals market, backed by a £3m campaign educating shoppers on the benefits of fibre.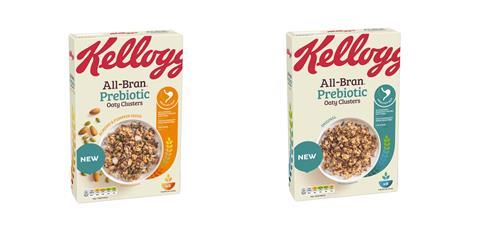 Available in two variants: original oaty clusters and almond & pumpkin seed oaty clusters, the fibre-rich breakfast option will hit shelves in January 2020.
The cereal contains prebiotic fibre (in the form of chicory root inulin), which helps to feed good bacteria in the gut. Sold in 380g packs (rrp £2.99), All Bran Prebiotic will sit in Kellogg's fibre-rich cereal portfolio.
The launch follows the brand's 'Happy Guts' campaign in February 2019, which saw All Bran, Fruit & Fibre and Bran Flakes rebranded and repositioned for younger, health conscious shoppers who are driving the gut health trend.
From January 2020, Kellogg's is planning to double investment in its fibre brands with a multi-million pound campaign, focused on informing the nation on the benefits of high fibre foods.
Kellogg's UK & Ireland brand activation manager Florence Kayll said: "With 26% of UK consumers claiming to eat less fibre than they should (Mintel 2018), it is really important we educate our shoppers to understand the importance of having fibre in their diets.
"Our All-Bran range contains almost 40% of the recommended daily allowance of fibre (11g). This new food gives us an opportunity to grow this historic brand and keep Kellogg's at the heart of the gut health trend."
The All Bran Prebiotic line-up forms part of Kellogg's drive to help shoppers make healthier choices in the morning. The cereal giant has already cut sugar and salt levels across its cereal portfolio, including Coco-Pops and Rice Krispies.