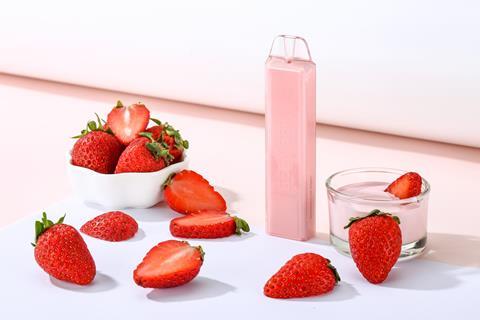 Geek Bar has revamped its S600 vape range as part of its plans to increase its market share in the UK specialist and convenience retail sectors.
The S600 range has been modernised to include a new rectangular shape to enhance the ergonomics of the device.
The company's packaging has been re-designed to protect against sales to minors and of counterfeits. It includes a prominently displayed security code which retailers and consumers can use to check the authenticity of the product and ensure they are not buying a fake product. In addition, the age restriction for sale of the product is also pronounced on the new packaging.
The upgraded vape devices, now available following approval from the Medicines Healthcare regulatory Agency (MHRA), are lightweight and compact, suitable for on-the-go vaping and prefilled with 20mg of nicotine as well as up to 2ml of e-liquid. Offering 600 puffs per device, they are designed for mouth-to-lung vapers in particular, who want to mimic as much as possible their former experience of smoking through getting a consistent throat hit.
The updated range comes in 10 different flavours including: sweet strawberry, mango ice, banana ice, sour apple, peach ice, strawberry ice cream, watermelon ice, blueberry sour raspberry, blueberry ice and grape.
Chief executive at Geek Bar Allen Yang said: "The S600 has stood the test of time and is as popular today as it was two years ago when we first introduced it to the UK market. However, at the same time it's important not to stand still and we have given a modern twist to the range which will give an even better experience to our customers, particularly those considering switching to vaping to quit their smoking habit.
"The revamped range also makes a statement by featuring our new packaging which has been introduced to help safeguard against sales to children and of fake products, two issues that we are committed to addressing working closely with the retail sector."