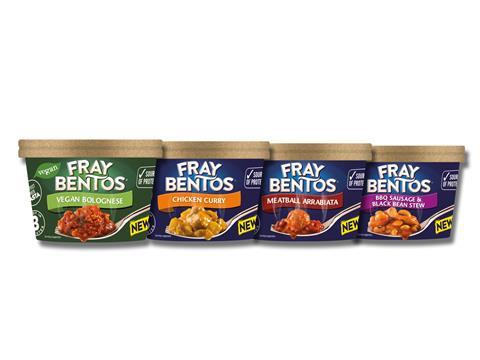 Fray Bentos has launched a new range of microwavable ambient pots.
Available in four flavours - BBQ Sausage And Black Bean Stew, Chicken Curry, Meatball Arrabiata and Vegan Bolognese – they aim to provide a convenient but hearty, home-cooked pub grub style offering at home. The pots come in packaging that is 98% recyclable with an RRP of £1.50.
Marketing director at Fray Bentos Lorraine Rothwell said: "As a nation we're increasingly hard-pressed for time with ever more of us now looking for quick and easy meal-time solutions that don't compromise on quality.
"Yet so much in the convenience sector is not currently meeting those needs. We spotted an appetite for an entirely new proposition based on hearty home-cooked dishes made from quality ingredients that are simple to prepare."
The pots provide a hearty main element for a meal - leaving the choice of how to accompany them up to you. Suggested combinations include mash for the BBQ Sausage And Black Bean Stew, rice for Chicken Curry and pasta for both the Meatball Arrabiata and Vegan Bolognese flavours.