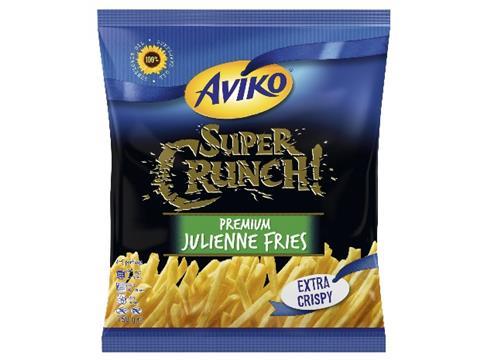 Aviko has launched three new frozen potato skus into the convenience channel.
The new lines are Super Crunch Julienne Fries which are thin cut and extra, and come in a case size of 10 x 750g with an RRP of £1.69. The New Bistro Garlic and Herb Wedges are aimed at the Big Night In occasion, come in a case size of 12 x 600g and have an RRP of £1.39. Aviko Mashed Potato comes in case size of 16 x 700g with an RRP of £1.49.
Aviko UK and Ireland senior marketing manager Shah Khan said: "At a time when eating out is so limited due to ever changing Covid-19 restrictions, shoppers are placing more value in enhancing their at home eating experience. Offering a premium and varied frozen potato range is therefore essential for retailers looking to profit.
"Our new and extended range meets consumers' needs on every level. Not only are the products restaurant quality, they also come in formats, sizes and price points that are perfect for current shopper lifestyles and different dietary requirements."
For more on the growth of frozen and quick meal solutions, check out our product report on the category.