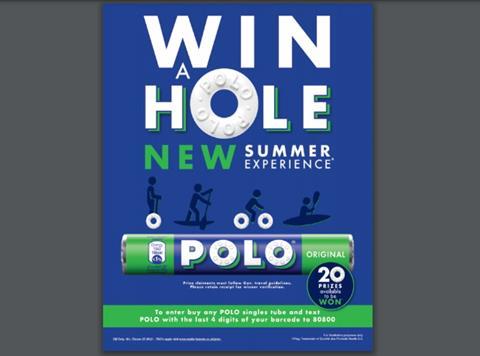 This summer the nation's best-loved mint brand (IRI Sugar and Gum Confectionery MAT 04/12/19) is giving shoppers the chance to win outdoor experiences, as well as launching a consumer communications campaign aimed at bringing the Polo brand front-of-mind.
The 'Win a Hole New Summer Experience' promotion gives consumers the chance to win a £200 Virgin Experience Day e-voucher which can be used on a selection of outdoor activities and experiences such as cycling, paddle boarding and Segway tours. The promotion will run from 1st July – 27th August and includes single packs of all Polo flavours including Original, Spearmint, Sugar Free and Fruits.
Shoppers can enter by texting Polo and the last four digits of their barcode to a promotional number.
High impact point of sale materials will be used throughout the wholesale and convenience channel to communicate the promotion. These materials will be provided by Nestlé's field sales teams and are designed to capture shopper's attention and drive sales.
What's more, the firm is investing in a £0.75m media campaign for Polo over the summer to drive visibility and make mints front-of-mind. The out-of-home and social activity aims to bring the brand to life through humorous messages.