Butter brand Stork claims that now is the time for retailers to capitalise on demand for home baking, as research shows that shoppers are most inspired to get creative in the kitchen over the Christmas period.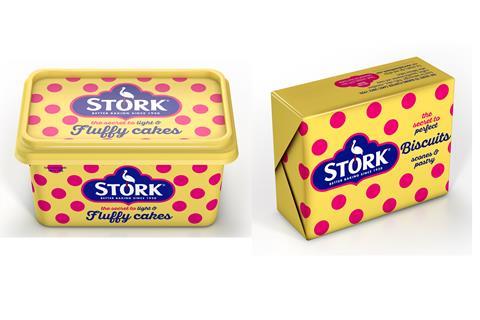 To help stores identify the opportunity in baking, Stork recently conducted a survey to find out what type of bakes are popular amongst today's consumers.
Findings revealed that whilst cakes remain a firm favourite for 82% of shoppers, especially those aged 45+, there is a growing interest for healthier alternatives. For example, a quarter of shoppers are choosing to make free from bakes, whilst a fifth (20%) are opting for healthier creations.
However, the biggest growth area in baking now comes from vegan or plant-based bakes (43%) – a trend that is mostly being driven by Millennials and Gen Z consumers.
When shopping for baking ingredients, over half of those surveyed stated that product quality is the most important element and 44% said they were more likely to buy baking ingredients that are merchandised together – something Stork says retailers can implement in-store to maximise sales in the run up to Christmas.
David Salkeld, general manager at brand owner Upfield, commented: "Our research reveals that there is still huge opportunity to be had in the baking category, however, the landscape is changing. The love for traditional bakes amongst all consumers remains, especially at Christmas (Nielsen Total Butters & Spreads Database, 52 w/e 26.01.19), but retailers should also consider products that tap into growing trends such as specialist diets.
"Whilst the festive season presents a huge sales opportunity, over 50% of those we polled revealed they are baking over seven times a year, demonstrating that there is demand over the course of 12 months which retailers can take full advantage of."
The research was commissioned to support Stork's new pack design for its Original and Block variants. The refreshed packs now feature pink spots for shelf stand-out and clearer product information to target shoppers who haven't bought into the brand before.
Source: Independent research set up by Stork and carried out by One Poll – August 2019.