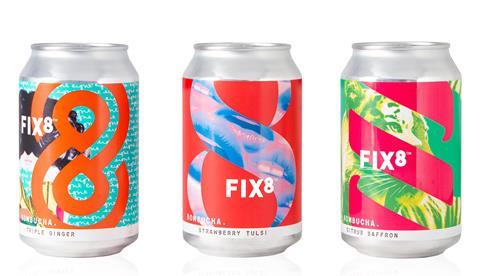 Previously only available in glass bottles, Fix8 kombucha has now launched in cans (rrp £2.50) in order to expand the number of occasions at which the drink can be consumed. The new format boasts a lower carbon footprint and a longer shelf life of 12 months. The product can also be stored at room temperature, enabling distributors and suppliers to store and transport the product more easily opening up the functionality of the product.
Freya Twigden, founder of Fix8, said: "Our mission is to break boundaries by taking kombucha beyond the health food niche and open up the consumption occasion. The only way to do that is to enter the wider soft drinks market in a suitable ambient format with a genuinely interesting, flavour-forward adult soft drink that plays with the flavours and complexity that only fermentation can create. We want to bring great tasting Fix8 Kombucha to everyone at any occasion, any time, any place, anywhere and believe our cans do just that."
Chris J.J. Heaney, head brewer, said: "The fermentation and brewing process is at the heart of our product. The Fix8 in a can is brewed in exactly the same way with the same ingredients as our glass bottle range. In fact, when you are drinking Fix8 in a can it is likely to be from the same batch that has gone into our bottles. The only difference is when it comes to packaging. When we fill our cans they are heated just enough to stop the yeast and the bacteria fermenting. Of course, they still contain the naturally occurring B vitamins, acids, polyphenols, and are low in sugar."
Brewed in small batches in the Fix8 London microbrewery, the range is naturally low in sugar and contains a living dose of bacteria for the gut, B vitamins for the nervous system and L-theanine, which contributes to a healthy brain function.
The drink is available from wholesalers Wholegood and Eebria Trade.