Spring confectionery is highly instrumental in ensuring all-year-round category success, providing retailers and brands a strong opportunity to drive growth, by ensuring the right brands are available in the right formats at the right time for shoppers.
Seasonal occasions provide a platform on which to create magical brand experiences for the vast number of households who buy into the confectionery category. Seasonal confectionery is also key to all-year-round confectionery success and therefore a lucrative prospect for retailers.
As the market continues to recover from the impact of Covid-19, there is a strong opportunity for brands and retailers to ensure the correct fundamentals are in place, with the right brands available in the right formats at the right time for shoppers.
Take confidence from a category that has bounced back
The spring season is typically measured from 1 January until Easter Sunday. Therefore, each year, the length of the season – and thus the length of the selling period – can vary. Easter 2021 saw the market recover beyond expectation, growing 14.1% to £518.5m during a relatively short spring season (93 days)1. This followed a decline in sales in 2020 when the season was spent in lockdown. However, the impact of Covid was still apparent last year, with fewer celebrations taking place, involving fewer people2. This year, the nation's desire to spend time with family and friends has never been greater, and many of us are looking forward to the return of 'proper' celebrations, meaning Easter 2022 looks set to be the biggest yet.
Early season is the key time for seasonal impulse
In 2022, the spring season will last 106 days, making it a longer selling period than typical and therefore representing a fantastic opportunity for retailers to capitalise on seasonal sales.
The early season is typically the first third of the season (in 2022 that would be the first five weeks of the year). Capturing sales in these early weeks is key to a successful season as 80% of shoppers who buy in the early season return to buy again3. Convenience retailers should make the most of this opportunity with formats such as seasonal singles, bags and blocks and mini eggs.
Stocking early ensures an extended selling period for these products, offering multiple purchase occasions, and therefore a lower risk for convenience retailers. The price points of these formats also offer a strong opportunity to drive profit. With 63% of shoppers in the convenience channel buying on impulse, these formats are crucial to the channel. However, 53% of households do not currently shop the early season4, representing a valuable opportunity for retailers to use communication and eye-catching displays in-store to attract their attention to the category and drive sales.
In 2021, seasonal impulse formats grew ahead of the market, up 16%5 – a trend expected to continue this year. The importance of impulse formats is highlighted by Nestlé's headline product for its 2022 spring range – the much-loved KitKat Bunny. Launched in 2020, KitKat Bunny quickly became the No.2 impulse novelty on the market6 and retained that position during Easter 20217 as consumers fell in love with this cute chocolate bar, suitable for occasions ranging from indulgent treating, baking and egg hunts to Easter gifting.
Products from big brands, which also fill a gap in the market, will bring new consumers into seasonal confectionery and generate incremental sales. With a gap in the market for a white chocolate product, last year MilkyBar (the No.1 white chocolate brand8) launched its brand new seasonal product – MilkyBar Bunny – a lovable white chocolate foil-wrapped bunny character available in two sizes: impulse 17g and novelty 88g.
Mini eggs are purchased for multiple occasions and make great solutions for self-consumption, sharing, egg hunts or creating baking masterpieces. New product launches are also ideal for capturing attention and driving excitement in the confectionery category, and this year the mini eggs category will benefit from a brand-new launch from After Eight. New After Eight Mint Chocolate Foiled Mini Eggs are dark chocolate eggs filled with the iconic, delightfully minty, After Eight centre, offering something totally different to the mini eggs market.
Packaging is an important consideration for an increasing number of consumers, as the desire for more environmentally conscious brand offerings grows. This year Smarties mini eggs will be in fully recyclable paper bags for the first time, using paper from responsible sources. This commitment is expected to remove four tonnes of non-recyclable plastic waste.
Mid-season offers opportunities for shoppers to broaden their repertoire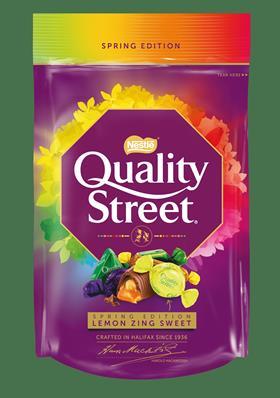 The mid-season covers the middle third of the spring season. During this time, convenience retailers should encourage shoppers to shop across the range of seasonal products, introducing them to new launches and novelty formats by making them eye-catching in-store.
A great product for sharing with friends and family this spring is the brand-new Quality Street Spring Edition pouch. Socialising with loved ones will play an important role this year, as many of us are keen to make up for the time we were kept apart during the pandemic. Confectionery to share is an ideal treat for dipping into at a social occasion. Quality Street's new Spring Limited Edition pack comes complete with an additional sweet – the Lemon Zing – offering consumers a treat they cannot get at any other time of the year.
Encourage shoppers to trade up in the late season with giant and premium gifts
Easter eggs make up the largest proportion of Easter confectionery sales and are worth a huge £257m to the marke9. Large eggs account for half of these sales and, along with seasonal impulse, are driving the seasonal confectionery category and are therefore important for retailers looking to capitalise on the occasion.
Convenience retailers may only have a limited amount of shelf space to display larger eggs, so it's important to focus on a core range of big brands. These big brands are important as they have the mass appeal shoppers look for, as they want to know they are buying the recipient a gift they will love.
The late season also offers a lucrative opportunity to encourage shoppers trade up to more premium Easter eggs at a higher price point, which are more profitable.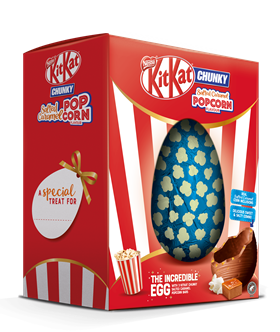 The 2022 Nestlé range is packed with gift-worthy eggs for all recipients and includes a brand-new launch from its premium range of Incredible Eggs. The KitKat Chunky Salted Caramel Popcorn Incredible Egg capitalises on the growing consumer trend for salted caramel products. Caramel is the most popular milk chocolate variant in the UK, purchased by 64% of all UK households10. Meanwhile, penetration of salted caramel has trebled in the last four years, and one in four shoppers have now tried a salted caramel product11. The Incredible Egg comprises a milk chocolate shell egg with salted caramel flavour and popcorn inclusions, alongside three KitKat Chunky Salted Caramel Popcorn bars. Retailers can have confidence the new launch will prove popular, as the bars have been a hit with consumers since their launch in July 2021.
Nestlé Confectionery's spring 2022 range is designed to build on its winning formula of big brands delivered across best-selling formats. This formula, alongside the market's recovery following Easter 2020, led the manufacturer to grow its Easter confectionery sales ahead of the market in 2021, up 14.7%12.
To find out more about Nestlé's spring offer and how to maximise in-store sales in the run-up to Easter, contact Jack.Sharp@uk.nestle.com
Sources
1 IRI Infoscan, Total Market (inc. Discounters), Value Sales, 16 w/e 24,04.21,
2 Shopper Vista from IGD, Lockdown Easter 2.0, April 2021
3 Kantar Worldpanel
4 IRI Major Multiples, Easter Confectionery, Weekly Value share of Season, Easter aligned weekly 2017, 2018, 2019 & 2021
5 IRI Total Market (incl. Bargain Stores/Hard Discounters
6 IRI Data to 11.04.20, performance YTD
7 IRI Data to 24.04.21, performance YTD
8 IRI, Total Market, 52 w/e 01.01.22
9 IRI Infoscan, Total Market (inc. Discounters), Value Sales, 16 w/e 24.04.21
10 Kantar Worldpanel, Total Confectionery, 52 w/e 09.08.20
11 Kantar Worldpanel, Total Chocolate Confectionery, 52 w/e 30.12.20
12 IRI EPOS, Data to 24.04.21