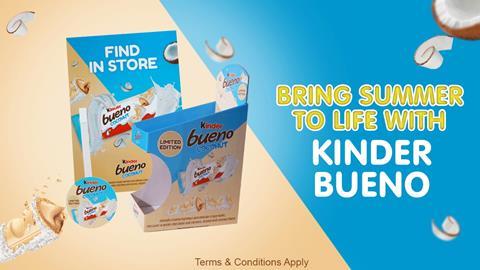 Ferrero is giving convenience retailers the chance to win Kinder Bueno Coconut and Raffaello stock by promoting the new limited edition coconut bar in-store with point of sale (POS) material.
The firm has a limited number of POS kits suitable for stores of all sizes (containing a countertop unit, store poster and shelf wobbler) at www.yourperfectstore.co.uk. Convenience retailers who order these kits and share images of the displays on Twitter, tagging @FerreroYPS, will be entered into a draw to be in with a chance of winning Kinder Bueno Coconut and Ferrero Raffaello stock, inflatable props and decorations and branded bunting to help the celebration materialise for shoppers in-store.
As footfall to stores and impulse purchases are expected to increase through the warmer months, Ferrero claimed that creating theatre in store would help convenience retailers to attract new shoppers to the confectionery fixture and maximise sales this summer and beyond.