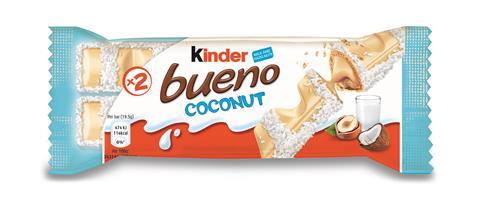 The limited edition Kinder Bueno Coconut was last available in 2017, and will be relaunched on 4th May in a plain pack (rrp 84p), followed later in the month by a 60p pricemarked pack (PMP).
In 2017, the product delivered almost £1m RSV in just three months of sales (Grocery multiples from 01.06.2017 to 26.08.17). In addition to this, the launch generated a +65% increase in sales (Kantar w/e 31 December 2017 – 24 week view - % of buyers), with over half of sales to shoppers who were new to the brand (ibid).
Stocking Kinder Bueno Coconut alongside the core pack will therefore present convenience retailers with an opportunity to attract new shoppers to the confectionery fixture, as footfall to stores and impulse purchases are expected to increase through the summer, claimed the company.
Levi Boorer, customer development director at Ferrero, said: "Following the success and positive consumer support Ferrero achieved from the launch of Kinder Bueno Coconut in 2017, we are thrilled to be in a position to offer convenience retailers the opportunity to restock this summertime favourite. We are confident that the limited-edition flavour will entice a wave of new shoppers into the brand, such as those who are excited to pick up a more exotic treat on the go."