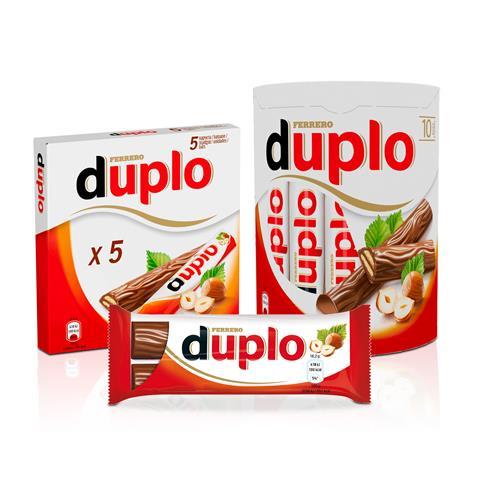 Ferrero UK is adding a premium SKU to the chocolate biscuit category with Duplo. The 100kcal bar features two layers of wafer, sandwiched between a smooth hazelnut centre and coated in milk chocolate.
Pack sizes:
· Duplo Single pack (18.2g) – rrp 30p
· Duplo Double pack (36.4g) – rrp 60p
· Duplo 5 pack (91g )- rrp £1.80
· Duplo 10 pack (200g) – rrp £3
The company claims that Duplo has been a best seller in Germany since its launch in 1964. It notes that early consumer testing in the UK and Ireland shows a wide appeal across age groups, particularly amongst adults aged 24-45, due to its distinctive nutty taste and flavour, and its creamy texture.
Levi Boorer, customer development director at Ferrero, said: "The initial positive consumer response already shows a strong opportunity for retailers to shake up their chocolate biscuit fixture with this new launch. The varied product formats and pack sizes give Duplo appeal across a number of different shopper missions, both enabling retailers to offer something new as on-the-go purchases return, as well as larger multipacks that allow people to manage their treating ahead of time and around the working week."
To help drive awareness of the launch Ferrero is running a multi-media campaign spanning print and digital media. In addition to this, POS units are also available for retailers that wish to create some in-store theatre and excitement around the launch.