Egmont Publishing has announced the launch of a Poopsie Slime Surprise magazine in collaboration with toy manufacturer MGA Entertainment.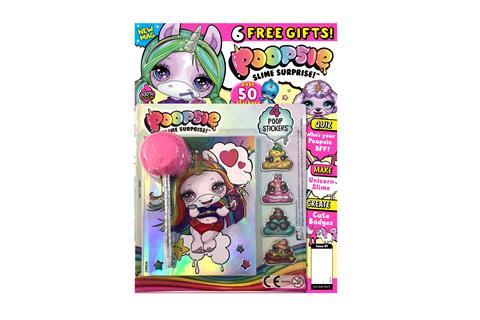 The Poopsie Slime Surprise brand combines the experience of unboxing toys with pop culture and parody references. The new magazine, made for readers aged six to nine years-old, claims to bring the Poopsie attributes of fantasy, unicorns and rainbows to life in a print format.
The debut issue of the mag will be made available to independents from 23 October (rrp £3.99). It will come with puzzles, posters, games and also features six free gifts. Poopsie is the latest title to be added to Egmont's portfolio, which includes an extensive range of girls' publications.
Laura Adnitt, magazines publishing director at Egmont, said: "We're thrilled to be entering into a new partnership with MGA Entertainment, who has proved themselves to be trend-driven pioneers in the toy market, championing innovation in both products and packaging.
"The Poopsie brand has been a huge success in the UK market, and we know that fans will love learning more about their favourite Poopsie characters through this unique magazine."