Delamere Dairy is launching a new range of nut based drinks, called Nutty Drinks.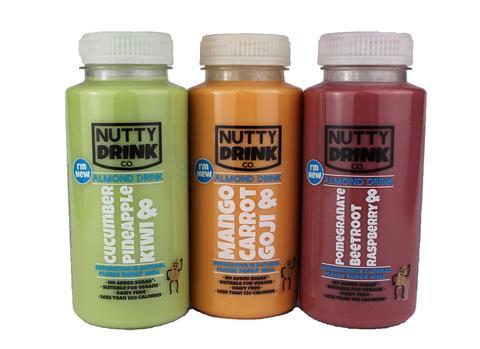 The ange contains real almonds nuts and is made in the UK. The range contains added fruit and vegetables and no added sugar.
Each serving of Nutty Drinks is suitable for vegans and contains less than 140 calories.
The drinks are available in three flavours; Cucumber, Pineapple & Kiwi, Mango, Carrot & Goji and Pomegranate, Beetroot & Raspberry.
Delamere Dairy is also planning to launch seasonal varieties of the range in time for Christmas.
The Nutty Drinks range is available now in 250ml bottles (rrp £2.00).
Nutty Drinks are available via health food wholesalers. Suma, Marigold and the Health Store are stocking them currently and we are in discussions with wholesalers such as Booker, Bestway, Nisa, P&H, so hopefully in the not too distant future they will be available there too.