AMC Group is launching FreshJ: a range of high quality, freshly-squeezed juices to be produced at the company's new state-of-the-art plant in Skelmersdale.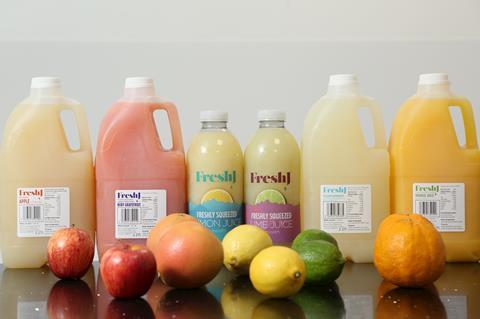 The range is available to convenience stores through wholesaler Reynolds and consists of a 2.27ltr bottle (available in orange; cloudy pressed apple; ruby grapefruit; and Sicilian lemonade flavours) as well as a 750ml bottle (sold in lemon or lime variants).
The juices can either be served neat or used as a mixer for mocktails, cocktails and spritzers. The products are aimed at retailers, food service outlets and wholesalers.
Mike Bullock, director of fresh foods UK at AMC Group, commented: "The freshly-squeezed market is worth £18.1m and growing 15.6% YoY (Kantar Worldpanel data 52 weeks up to 24.03.19), offering a huge opportunity for sales. We are the only manufacturer in the UK to have access to our own orchards via the AMC Group, meaning we have an unlimited supply of fruit and the capability to produce 100% of the country's freshly-squeezed juice.
"We are thrilled to reveal our first branded freshly-squeezed juice to come from our new site and also welcome the opportunity to work alongside partners who are looking to offer innovative juice blends of a high quality. FreshJ is a quality freshly-squeezed juice that tastes fantastic and is extremely versatile for food service or retail."
The AMC Group facility in Skelmersdale can squeeze 960 oranges per minute and is able to create juice at a fast rate, while maintaining a high quality product.