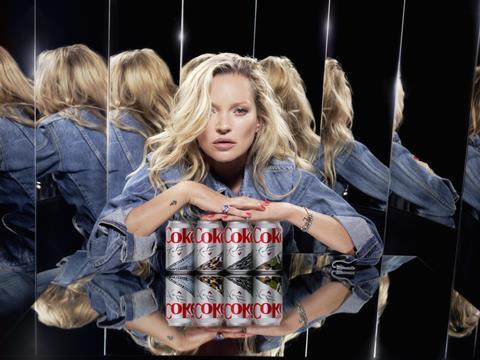 The brand's new creative director, Kate Moss, has combined her timeless style and the 'Love What You Love' philosophy to create Diet Coke by Kate Moss 'Love What You Love' Limited Edition campaign. This comprises a limited edition collection of four can designs, campaign films and events for the brand's 40th anniversary.
The can designs reflect Moss' favourite fashion moments over the past four decades. From iconic photoshoots wearing camouflage, to red carpet events in lace gowns, the collection includes four designs featuring denim, leopard, lace and camouflage. All variants are available nationwide, apart from Camouflage which is in limited distribution. The designs also showcase Kate's signature and an iconic monochrome portrait that was designed by her close friends at Rockins, created to celebrate her own 40th birthday.
Moss said: "When I designed my new Diet Coke by Kate Moss Limited Edition Collection, I was inspired by my favourite looks worn over the years - and how good they made me feel at the time. Each design captures a moment I've loved – every piece holds a special memory for me and still lives in my wardrobe. It's been great to revisit this, as part of the celebrations for Diet Coke's 40th birthday."
As one of the world's original collaborators, Diet Coke has invited some of the most renowned fashion designers and design houses including Karl Lagerfeld and Jean Paul Gaultier to use its canvas for self-expression. Herself inspired by iconic creatives and paying tribute to the brand's heritage in fashion, Kate's involvement with the campaign has been influenced by some of her favourite fashion photographers, artists, and the brand's extensive archive.
Kate said: "Being in front of and behind the camera was so exciting. Having full creative control of the look and feel of the campaign was a first for me. Diet Coke is a pop-culture icon and has a unique place in fashion history."
Martin Attock, VP commercial development at Coca-Cola Europacific Partners (CCEP) said: "Diet Coke is worth over £950m [Nielsen + CGA] and consumed by 4m consumers every week [Kantar] making it GB's No.1 zero sugar cola brand [Nielsen + CGA]. The new collection of Diet Coke cans by Kate Moss will help us deliver great activation in store for our customers to help drive further sales. Not only will shoppers want to collect the can designs, but the on-pack will reward loyal fans of Diet Coke with 1,000s of prizes which include handbags, signed books and retail vouchers. We're thrilled that Kate Moss is helping Diet Coke celebrate its 40th Birthday in style."
The 330ml limited edition camo, denim, lace and leopard Diet Coke cans are available within 8, 10 and 12 x 330ml multipack cans. The on-pack promotion will run on specially designed 500ml, 500ml PMP, 2l PET bottles and on the outer boards of the 8, 10 and 12 x 330ml multipack cans. A supporting consumer marketing campaign featuring Kate Moss includes out-of-home advertising, social media and events.
Capturing the campaign, the director, Quentin Jones, was selected for her trademark contemporary surrealism, use of mixed media and dynamic video editing. Set against a hyper-real creative studio space, it gives fans the feeling of being backstage with Kate, as she gives them a glimpse into the creative process.
Quentin, explained: "We really wanted to convey the coming together of these two icons and pay homage to Diet Coke's 40th birthday by introducing influences from some of the big decades – eighties, nineties and noughties. Using elements of lo-fi tech, combined with surrealist sculptures and contemporary editorial cues, we illustrated Diet Coke's place in fashion - with a little nod to both the brand's light-hearted sense of humour."
The creative team also included Katy England, the legendary stylist and Kate's close friend. As well talented make-up artist, Isamaya Ffrench, who used her artistry to bring the decades to life. From the bold red lip, synonymous with '80s supermodels to Kate's signature grunge eyeliner of the '90s and glowing skin of the '00s - each look encapsulates make-up trends across four decades.
Michael Willeke, integrated marketing experience director Europe, said: "We couldn't be more excited to bring two iconic names together to reveal Diet Coke by Kate Moss' 'Love What You Love'. Bringing her incredible aesthetic, this campaign pays homage to our heritage and love of fashion and celebrates our loyal fans of the brand."