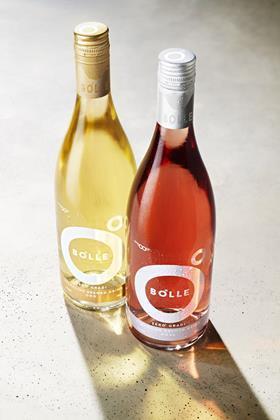 Brewed in Birmingham, alcohol-free wine Bolle is launching in the UK on June 22.
The zero alcohol, low-calorie sparkling drink has been produced using Zero Gradi technology invented by scientist Roberto Vanin. Rather than removing alcohol from wine, which Vanin claims can result in loss of flavour, his process has the effect of fermenting juices without producing any alcohol in the first place. He claims that Bolle delivers on taste, without being too sweet.
Bolle is available in two variants, both 750ml with an rrp of £9.99. Bolla Rosa is pink with notes of berries, blackcurrant, toast & herbs, and Bolle Ora has notes of apple, pear, toast & minerals.
Vanin says: "From the outset I wanted to create a fermented drink that not only over-indexed both in terms of taste and sparkling wine aspirations, but coupled seamlessly with great food, yet minus the alcohol, unwelcome calories and overt sugary sweetness that has historically held this intriguing product category back.
"To my mind Bolle offers historically inaccessible levels of sophistication, coupled with smooth, well-balanced acidity and a crisp yet refreshing taste. For too long wine, unlike small batch beer, has been weighed down by suffocating snobbery and elitism, which has historically stifled category experimentation (low calorie, low sulphur, organic…) Bolle, we believe, offers the depth of character and enlightened flavour notes to spark a wider appreciation of sparkling wine."