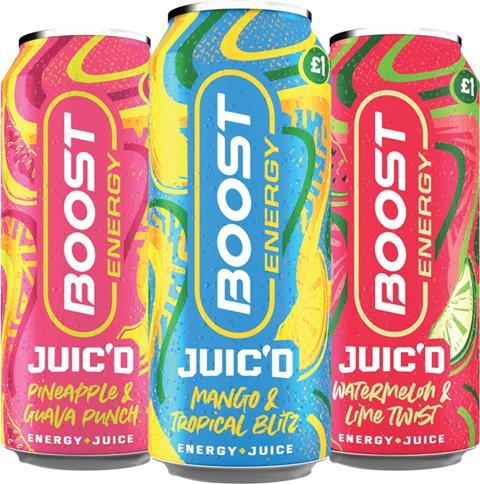 Functional drinks brand Boost Drinks is tapping into the largest selling can segment (IRI) with a 500ml Juic'd energy and juice drink range.
Developed with 5% real fruit juice, Juic'd is available in £1 pricemarked packs (PMPs) and comes in three flavours: Mango & Tropical Blitz; Watermelon & Lime Twist; and Pineapple & Guava Punch. Boost claims that 74% of consumers see Juic'd as being something 'new and different' to the existing categor (Ink Research).
Sales of 500ml cans are booming (+28%) and worth £232m, resulting in the 500ml can segment being the fastest growing category in energy drinks (IRI).
Adrian Hipkiss, marketing and international business director at Boost Drinks, says: "Our business operates on listening to the needs and wants of our customers and end consumers, coupled with the category data, it was clear there is a huge demand for a new brand in the 500ml can space.
"Juic'd is jam-packed full of flavour, with real fruit juice refreshment but at the same great Boost value price point for consumers. With the cost-of-living increases, it's great to be able to launch a new brand in this thriving category and provide more choice for consumers."
To further amplify the NPD launch, the brand is activating a cross-channel marketing strategy with touchpoints across OOH, digital advertising, social media as well as a creative depot activation.