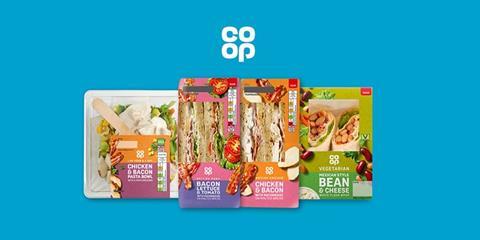 The Co-op food-to-go range available to Nisa retailers has been extended.
As part of the summer 2022 range, which is available to Nisa retailers directly from its central distribution, a selection of new sandwiches and salads have been added, inspired by a wide range of global flavours. The new lines include wraps, subs and pasta salad pots as well as a few indulgent sweet treats.
The Co-op has also significantly reduced the amount of packaging on its food-to-go products and removed all single-use plastic cutlery in favour of wooden sporks.
Jonny Lambert, wholesale category lead for Co-op, said: "Food-to-Go remains a key mission for the convenience market and with this new range available to Nisa partners we believe it places them in a great position to drive more sales in their stores this summer
"The relaunch of the packaging design also comes just in time for summer, with a new vibrant and eco-friendly design that's perfect for the sunshine season and attractive for the consumer."