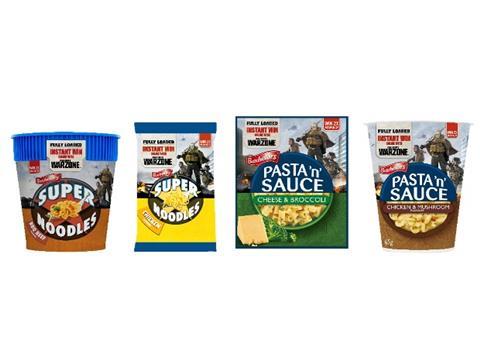 Premier Foods has announced a retailer promotion as part of its tie-in between Batchelors and Call of Duty: Warzone.
The retailer promotion includes weekly prize draws giving 10 stores promotional prize packs to help celebrate the activity in store and generate sales of core Batchelors products. A grand prize of £500-worth of gaming vouchers will also be awarded to one entrant.
Drawn weekly, 10 retailers will win a prize bundle containing a Batchelors branded FSDU, plus stock from the core Batchelors range to fill it – including products from the Batchelors Super Noodles and Batchelors Pasta 'n' Sauce ranges. In addition to the prize bundles, a single grand prize will be issued to one entrant at random at the end of the promotion, giving the retailer £500-worth of gaming vouchers.
The retailer competition is open from now until 3 March 2021. Details of how to enter can be found on Premier Foods' dedicated website to support retailers, Your Grocery Partner, with retailers required to visit the Quick meals and snacks page to answer a simple question about the Batchelors core range to enter. Full details available here: https://www.grocerypartners.co.uk/whats-new/batchelors-call-of-duty-warzone.
The Batchelors and Call of Duty: Warzone link-up also features an on-pack promotion offering thousands of shoppers the chance to win in-game bonus items and prizes with every pack.
Brand director for quick meal, snacks and soups at Premier Foods Adam Woolf said: "As one of the most successful gaming franchises of all time, Call of Duty is the perfect partner for Batchelors as we strengthen our appeal to gamers.
"Shoppers have been drawn to branded ranges in recent months as they can trust the quality and value for money of the products inside. Adding to that appeal, and running across our pot and sachet formats, the promotional packs contain genuine artwork from Call of Duty: Warzone, creating real standout on shelves while attracting gamers. With 36% of UK households having bought Super Noodles or Pasta 'n' Sauce over the last year, we can help to drive overall category growth by offering something new to gamers."