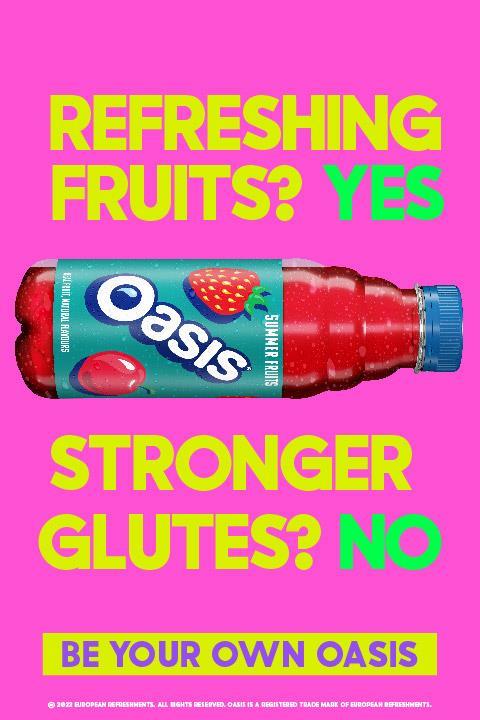 Coca-Cola Europacific Partners (CCEP) is ramping up its marketing activity for Oasis this summer, with a light-hearted campaign to tap into the lunchtime occasion.
Launching this week, the campaign aims to show that 'while Oasis can't change our characters… it can refresh them'. The activity will focus on young adults in urban centres when they are looking for refreshment whilst on the go and to accompany their lunch.
The campaign is expected to reach 81% of young adults multiple times (Media KPI calculation) and will include targeted video content on social media, alongside eye-catching digital out-of-home takeovers across high footfall areas in city centres. The quirky campaign includes lines, such as 'Oasis won't change your life, Just your lunch hour. Be your own Oasis'.
Oasis is worth £87m and outperforming the juice drinks segment three-fold (Nielsen), claims CCEP.
Martin Attock, vice president, commercial development at CCEP GB, says: "Across the juice drinks category we have seen sales of on-the-go formats return to growth, up 29% over the past 12 months (Nielsen), with Oasis on-the-go formats up over 42% (ibid).
"We expect this trajectory to continue, particularly throughout the summer, and this new campaign will help keep Oasis front of mind with consumers on their lunchtime shopping mission."
The Oasis range is fully HFSS-compliant, with all natural flavours and no artificial colours. Variants include Summer Fruits, Citrus Punch and Blackcurrant Apple.