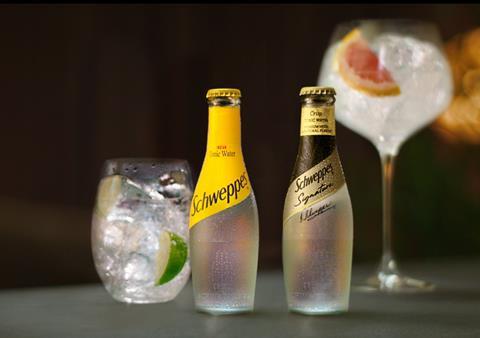 Coca-Cola Europacific Partners (CCEP) GB is bringing back its Schweppes, We've Got The Tonic, You've Got The Spirit marketing campaign, in the run up to Christmas.
The multi-million-pound campaign includes a light-hearted TV advert, airing from early December which is centred around family and friends enjoying long-awaited festivities together. It builds on two previous iterations from earlier this year, both of which also celebrated Brits' unshakeable positivity and keenness to have a good time.
The campaign will be supported by out-of-home, digital and social media advertising as well as a PR and influencer programme. Campaign elements will highlight Schweppes' new festive serves, Rosemary Wreath, Jingle Fizz and Merry Spritzer, which feature Schweppes Indian Tonic and the recently launched Slimline Elderflower Tonic and Russchian Pink Soda.
POS materials will be available from My.CCEP.com to help convenience retailers bring the Christmas spirit to life in-store, featuring Schweppes' 1litre Indian Tonic and Slimline Tonic.
Martin Attock, CCEP vice president, commercial development said: "We know that many people are planning a bigger Christmas this year [IGD, ShopperVista, 6th and 7th Jan'21], and rightly so, having celebrated under restrictions in 2020. While there will be many embracing the return of the hospitality sector this Christmas, many at-home habits have been formed over the last 18 months which suggests more social occasions will take place in the home. This presents retailers with an opportunity to drive sales of mixers like Schweppes, the no.1 mixer brand in retail [ Nielsen MAT Vol Total GB WE 190621], by tapping into occasions like parties, nights at home with family and friends and also gifting.
"This combined with our great tasting new festive serves on POS materials and feel-good marketing campaign, the Schweppes brand will remain front of mind with consumers, helping to drive footfall and sales for retailers.
"Our advice to convenience retailers is to stock up in the weeks before Christmas, when sales of mixers typically increase by 50% [Nielsen Symbols and Indies 2 weeks to Christmas 2018 = 50%; 2019 = 60%; 2020 = 44%]."