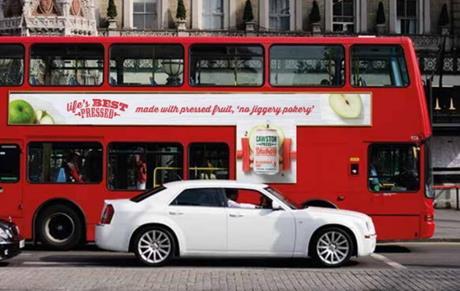 Juice brand Cawston Press has launched a nationwide marketing campaign focussing on its sparkling soft drinks range. The campaign, which is the brand's biggest investment to date, highlights that Cawston Press drinks are made from 100% real pressed fruit (never from concentrate) and sparkling water and sees the introduction of their new tagline: No Jiggery Pokery.
The new campaign encompasses ATL media, OOH advertising, PR, sampling, promotions and social media, and will run in total from now until the end of July, with the ATL & OOH live until the end of June. The campaign includes billboards (6-sheets and 48-sheets) across London, London bus panels, and London underground advertising panels. The activity has been supported by a £500,000 investment and will be seen on average 17 times by 5.7 million UK adults.
The launch coincides with the publication of new research, carried out through YouGov, which shows that 60% of UK adults are concerned about the amount of sugar, sweeteners and ingredients in fizzy drinks. What's more 63% would prefer if their drinks were made with more natural ingredients.
Cawston Press is shining a light on how it's possible to create sparkling soft drinks from real, recognisable and simple ingredients - no misleading language, hidden sweetener, never using concentrates or added sugar. The 'Life's Best Pressed' campaign, with a 'No Jiggery Pokery' tagline has been designed to encourage shoppers to reconsider what they choose to consume and challenge the soft drinks industry with a commitment to transparency and real ingredients.
Laura Hedderman, head of marketing at Cawston Press says: "This is a big moment for Cawston Press and we're incredibly excited to bring our Life's Best Pressed campaign to over 5.7 million people this summer. We pride ourselves on making great-tasting sparkling soft drinks, using real pressed fruit and sparkling water - it really is as simple as that, which is why we call it 'No Jiggery Pokery'."
Cawston Press sparkling drinks are available in five quintessentially British flavours; Sparkling Rhubarb, Sparkling Cloudy Apple, Sparkling Ginger Beer, Sparkling Elderflower Lemonade and Sparkling Orange. All ingredients are picked in season, when they're at their best, to ensure a great-tasting product. These are then pressed and added to sparkling water.