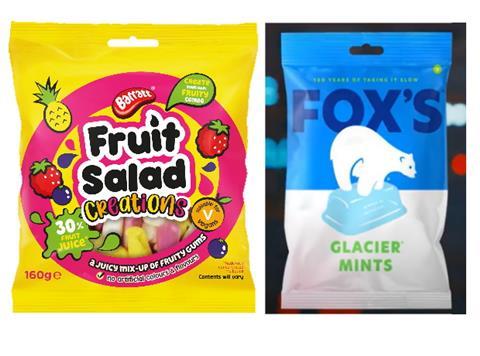 Valeo Snack Foods has revealed Fruit Salad Creations, as well as investing in a seven figure above the line campaign for Fox's Glaciers.
Fruit Salad Creations (160g, rrp £1), a range of fruit-shaped gummies that encourage the eater to experiment with their own flavour combinations. The two signature core flavours of pineapple and raspberry will still appear in the selection, however Fruit Salad Creations will also include two new flavours of blackcurrant and orange.
Fruit Salad Creations by Barratt are made with 30% fruit juice, are suitable for vegans and made with natural colours and flavourings. They will be available in the Co-op from 20th September.
Russell Tanner, marketing director at Valeo Snack Foods, said: "Fruit Salad is a truly classic brand which has been loved by the nation across all generations for nearly a century, with 78% UK consumer brand and product recognition.
"We hope to appeal to a new generation of gummy lovers and bring even more people into the category by adding the fun twist of experimentation with all four flavours.
"We know that one in five global consumers pay attention to health aspects when buying confectionery, so our added fruit juice, natural colours and flavouring credentials serve to make our sweets that bit more permissible. They're a fruit salad that everyone wants to eat."
Meanwhile, Fox's is back on TV with a 'Satisfyingly Long Lasting' proposition that imagines what life could be like if all good things lasted as long as a Fox's sweet. The 30 second TV advert takes the satisfying experience of successfully skimming a stone and makes it into a long lasting triumph.
The campaign will also run in VOD, out of home, press and social, while a second wave of activity is planned in early 2022 for digital audio and in-store.
Print and digital audio advertising will be contextually placed to reach consumers just when they are likely to be enjoying a slow, quiet moment.
It comes after a packaging makeover for the brand, which got a fresh, modern update earlier this year.
This campaign, created alongside creative agency Joint London, forms part of a sustained marketing investment in Fox's across 2021 and 2022. Ongoing national press, social and influencer activity is supporting the brand on a long term basis.
Tanner said: "Fox's has an impressive 91% brand recognition, but we need to build on this awareness and encourage reappraisal of the brand, highlighting the adventurous new flavor extensions on offer and getting consumers excited about the Fox's brand again.
"We're ready to revitalise boiled sweets and support retailers to drive sales in an often-neglected category."