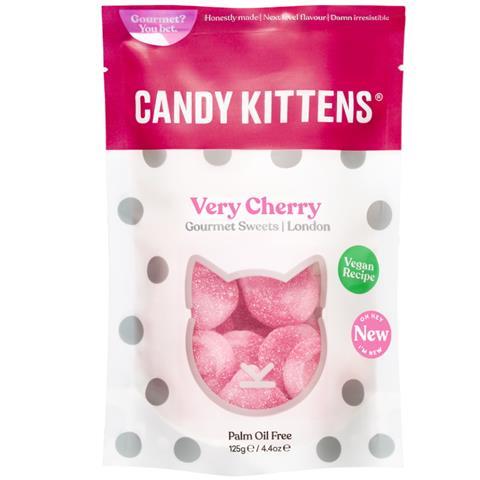 Very Cherry is the latest addition to the Candy Kittens portfolio. Made with real cherry juice and using only natural flavours and colours, Very Cherry was requested by fans of the brand. Inspired by childhood memories of cherry drops from school canteen vending machines, cherry is in the hearts and minds of many millennials today, claims the firm, adding that the fruit has become a pop-culture icon in its own right.
The cat face-shaped vegan sweets are free from gelatine, palm oil and carnauba wax and the brand has seen growth of 75% year-on-year.
Co-founder and managing director of Candy Kittens, Edward Williams, says: "Our consumers have been asking us to create a cherry flavour for years, so we're really excited to be answering this demand with a new addition to our vegan range. Very Cherry is bold and fun and, most importantly, really delivers on flavour - something that our consumers have come to expect of the brand thanks to the use of at least 10% fruit juice in every sweet."
Very Cherry joins the current range which includes; Sour Watermelon, Tropical Mango, Blueberry Bliss, Wild Strawberry and Eton Mess.
Global market growth for the plant-based snacks increased by 8.7% in 2019 alone and is set to more than double by the end of 2028, according to Future Market Insights.