Burts Snacks has revamped its Lentil Waves snack, aiming to appeal to the growing number of consumers looking for healthier and free-from alternatives.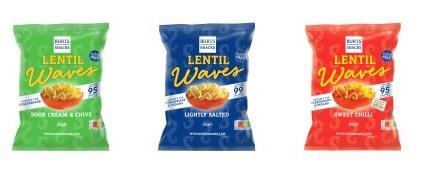 Rolling out in February, the new-look range will boast gluten-free certification by Coeliac UK and carry the Crossed Grain trademark. As well as this, the range is free from added MSG and suitable for vegetarians or vegans.
Bright new packaging is designed to create standout on shelf and features the traffic light system, providing simple nutritional information to help consumers make more informed purchases.
Burts Chips sales & marketing director Simon Knight said: "We're delighted to be rolling out a refreshed variant of our popular range of Burts Lentil Waves. Thirty percent of consumers already recognise the Burts Lentil Waves through association of quality (Consumer research conducted by 3GEM in Nov 2019 on behalf of Burts Snacks), so the bright new-look packaging will help shoppers find our products on shelf quicker.
"We hope that the improved health credentials will help to drive consumer appeal as more shoppers opt for free-from products to match their lifestyle choices. Currently, one in 100 people in the UK suffer from Coeliac disease, so to be able to offer a great tasting snack that sufferers can also enjoy is incredibly important to us."
Currently worth more than £218m, the better-for-you category has experienced a 9% growth over the past year (IRI market data MAT 1 December 2019) as more consumers opt for better snacking choices.
Burts Lentil Waves are available in single packs (rrp 99p) and multipacks (5x20g, rrp £1.80) in three flavours: Sour Cream & Chive; Thai Sweet Chilli; and Lightly Salted.