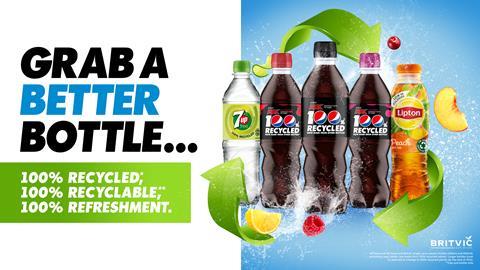 To celebrate Recycle Week, Britvic has announced that a number of its brands will be moving to 100% rPET (recycled plastic), across single serve 500ml and/ or 600ml bottles, by the end of September.
This includes Pepsi MAX, 7UP Free, Tango, Lipton, Robinsons Ready to Drink and Drench, with Mountain Dew following suit in December 2022.
To help gather insight around consumers changing habits and brand preferences based on sustainability credentials, Britvic commissioned independent research on the issue which revealed that the majority of Brits (80%) think it is important that manufacturers and brands use recycled plastic, with over half (58%) stating they are more likely to choose a soft drink brand that communicates its use of 100% rPET on-pack, than those that don't.
Commercial sustainability director at Britvic Tom Fiennes said: "The research we've commissioned gives us further insight into consumer habits and how these are impacted by sustainable efforts on behalf of manufacturers, retailers and foodservice outlets. It also reveals that 60% of Brits will return to a specific store if they stock products that use recycled plastic. This goes to show how important it is for retailers, and operators, to offer a range of sustainable products and that this can affect shopper loyalty.
The change will be supported with clear on-pack messaging across selected brands, in-store and outlet activation via POS materials and a new TV advert from Pepsi MAX.
"To further support our trade customers, we're not only proud to be delivering action, but also helping them to generate sales at point of purchase through the on-pack communications on our move to 100% rPET, and POS materials," added Fiennes. "We have also invested in a fully integrated single serve campaign, which will lead with Pepsi MAX - appearing on social, TV and OOH."