The UK's Cannabis Trades Association (CTA) is launching a "systematic campaign of political and media engagement" designed to "keep the pressure" on the Foods Standards Agency (FSA) not to withdraw CBD products from shelves, as a result of last year's Novel Food classification.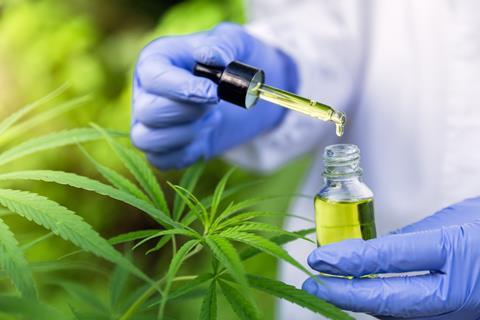 Any such enforcement could hit millions of consumers who regularly use CBD products, the CTA said.
The announcement follows a letter from the FSA's head of food safety policy Michael Wight, to the Cannabis Trades Association, which said: "The FSA has no current plans to immediately withdraw CBD products from the shelves but retains the right to change this stance if new evidence is produced that concludes CBD is not safe, or for any other relevant reason."
Last January the European Commission re-classified all CBD sold as food or food supplements (including CBD oil) as "novel".
According to the European Commission, novel food is defined as food "that had not been consumed to a significant degree by humans in the EU before 15 May 1997, when the first Regulation on novel food came into force".
The novel food ruling does not apply to non-food products such as vapes, medicinal products and cosmetics.
European member states were left to decide on how to enforce regulation of CBD.
The reclassification means that manufacturers and distributors wanting to sell CBD food products should apply for novel food authorisation from the European Commission. CBD products that have not been granted such authorisation are technically at risk of enforcement action.
In the UK, where shoppers are already spending more than £300m a year on a wide range of CBD products, the FSA has been seeking a "proportionate way forward by working with local authorities, businesses and consumers to clarify how to achieve compliance in the marketplace in a proportionate manner".
Responding to the FSA's letter, CTA chairman Mike Harlington said: "It seems clear to us from our direct communication with the FSA, and from correspondence between them and other interested parties shown to us, that they acknowledge that the information available does not suggest any significant safety concerns related to CBD products. I believe that this should be a source of some reassurance to the members of our trade association and the industry as a whole.
"CBD products are used by millions of consumers across the country on a daily basis. They simply wouldn't use them if they didn't think it helped their quality of life. We are committed to making sure that the CBD industry operates to the highest standards.
"Politicians and regulators need to understand the importance of these products to individual consumers and the importance of a vibrant and successful CBD industry to the UK economy.
"Enforcing the provisions of Novel Foods would be a draconian move and be a devastating blow for millions of UK consumers. For that reason, the Association is launching an intensive and systematic programme of lobbying on this issue," he added.