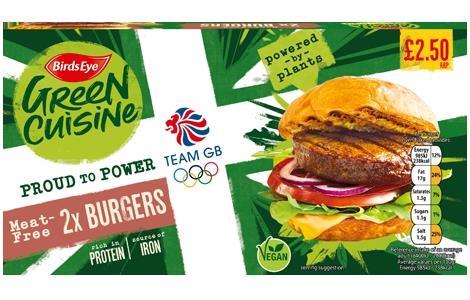 Birds Eye is giving one independent retailer the chance to win a prize fund worth £3,000 to donate to their local community.
The 'Kit Out Your Community' activity ties into the household brand's recent announcement of Green Cuisine becoming the official plant-based supporter of Team GB. This incentive through the Birds Eye Green Cuisine range aims to encourage retailers to adapt their offering to suit the consumer health trend and tap into the sales opportunity that the upcoming summer of sport brings.
The prize fund is to put towards providing sports equipment and kit for suitable causes of the retailer's choice, such as schools, local sports teams or community centres.
The campaign will run from Monday 5 June to Friday 23 July and the selected retailer will receive their prize in line with Team GB competing in the Olympics in August.
To be in with a chance of winning, retailers need to head to the Shopt app and redeem the Birds Eye Green Cuisine reward. By demonstrating that they stock Birds Eye Green Cuisine Burgers PMP (£2.50), retailers will receive a £3 reward into their Shopt account and will be automatically entered into the Kit Out Your Community prize draw. Alternatively, retailers can email an image of their freezer – containing the PMP burgers – to group.birdseye@cirkle.com.
Birds Eye UK marketing director Sarah Koppens said: "Being the UK's fastest growing frozen meat-free brand, we're so proud to not only be the official plant-based partner of Team GB, but to be able to use this platform to further support independent retailers. After such a challenging year, in which we saw communities rely on their local retailers, we're thrilled we can offer these retailers a chance to become an even more integral part of their shoppers' lives through our 'Kit Out Your Community' campaign."