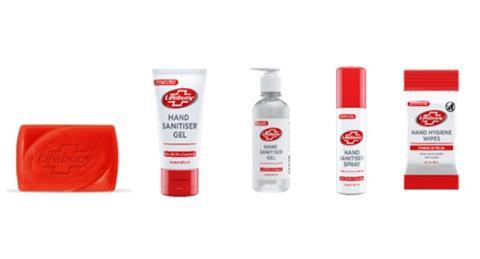 Lifebuoy hygiene range has been relaunched in the United Kingdom.
The new Lifebuoy range includes Hand Sanitiser Gel available in 250ml and 50ml, along with a range of products with antibacterial properties launching across Q3 including - Hand Hygiene Wipes, Hand Sanitiser Spray, Liquid Handwash, Classic Red Bar Soap and Moisturising Hand Cream + Anti-bac.
The relaunch is being supported by a £12m campaign which includes TV, OOH and social that will be tactically placed to remind consumers to wash their hands at high infection moments during their day – from adverts on petrol pumps through to prompts at bus stops and train stations.
The brand also plans to work with more than 4,000 schools and reach over a million children from September, with teachers receiving everything they need to help drive behavioural change in the classroom. From educational materials and stickers to prompt children to wash their hands through to fun and engaging games which teach children how easily germs can spread, the programme will support both teachers and children to improve hygiene in schools as they start to re-open.
To further ensure far-reaching support at a wider scale, hygiene kits, both physical and digital, will also be made available to those most vulnerable and in need. Lifebuoy products and informative materials will be sent through the charity In Kind Direct to thousands of households and schools, helping to make better hygiene habits part of everyday life.