Gin brand Gordon's is extending its range of pink gins with the introduction of a 35cl bottle that it hopes will drive sales in the flavoured gin category.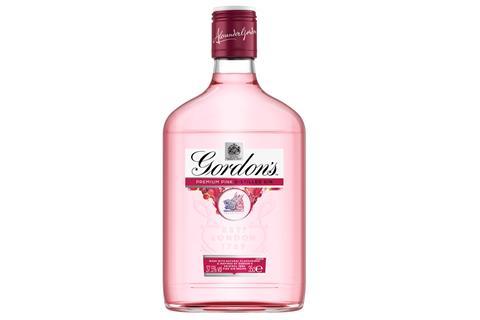 The smaller variant (rrp £11) is available now across the off-trade, including the convenience channel. Gordon's Pink Gin is also available to retailers in 1ltr (rrp £24) and 70cl bottles (rrp £16.50).
Katie Thomas, innovation manager at brand owner Diageo GB, commented: "The popularity of flavoured gins shows no sign of slowing and, since its launch, Gordon's Premium Pink Distilled Gin has played a leading role in this growth, adding £105m to the total gin category in the last year alone (Nielsen Scantrack, MAT end 18.05.19).
"With the addition of a smaller size bottle catering for a wider range of occasions, we're confident that our new 35cl bottle will enable retailers to tap into a broader number of opportunities and will encourage trial of flavoured gin thanks to its accessible price point.
Thomas added: "With over 200 new gins entering the market in the last two years alone and limited shelf space in store, retailers can be faced with hard decisions when it comes to what to stock. However, with the Gordon's trademark accounting for 44% of gin sales in the off-trade (Nielsen Scantrack, MAT volume to 18.05.19), the numbers really do speak for themselves and we'd encourage all retailers to stock Gordon's Premium Pink Distilled Gin and Gordon's London Dry in 70cl and 35cl formats."