Whether it's a simple sarnie or full-on fry-up, the potential of food-to-go shows no sign of cooling. Here retailers reveal what's on the menu.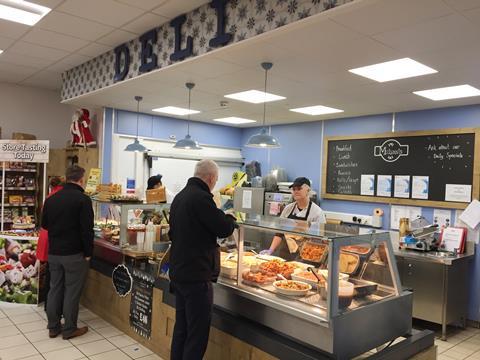 The food-to-go market remains a key factor in driving footfall for convenience retailers, and continues to grow and evolve. According to the HIM and MCA UK Food To Go Market Report 2019, the UK market is set to be worth £21.2bn in 2019 – 3% up on the previous year, with 12% of all trips to convenience driven by a food-to-go mission.
For Tony Lipscombe, owner of Premier Neyland Supermarket in Milford Haven, Pembrokeshire, food-to-go best-sellers vary from season to season. "In the summer, we sell a whole host of baguettes, sandwiches, and all sorts. Then in the winter, that's when hot food to go takes over. It's hot baps, sausage rolls, pasties and so on. We just make sure to cut down on how many we make depending on the time of year."
Eat 17, which comprises four stores in London and Bishop's Stortford, offers a wide range of hot food-to-go options with a twist. "Hot food is a massive thing for us. We have all sorts going on under that bracket," says Eat 17 co-founder James Brundle.
"We have street food vendors that take up space within some of our stores. We probably have about 15 or so different concessions across the stores. They serve things ranging from vegan food to Japanese cuisine. But any hot food seems to go down very well with our customers."
James believes that fresh is definitely the way forward. "We have our own kitchen at one of the sites, where all our own hot and cold food to go is prepared and cooked. We then distribute it across all the other sites accordingly. We have chefs who work there and make our own range of breads and sandwiches and so on.
"But the hot food-to-go stalls are something a bit different and show that hot food to go is definitely a massive part of our set-up. You can come in and take it away, or even sit down at some of the sites."
Navin Soni, owner of seven Thriftys stores in Merseyside, is equally convinced that food to go provides unparalleled sales opportunities. "The food-to-go category is increasing all the time. We are constantly trying to develop our range, right across the board. It is a growth sector and you have to keep up," he says.
"We predominantly sell cold food to go at the moment, but we expect that to change. We have recently got a new slushies machine because we'd heard they were doing well, and now we are looking at a new hot counter as we know that is the next thing. That is the next step for us – talks with a franchisee food operator."
Fan the flames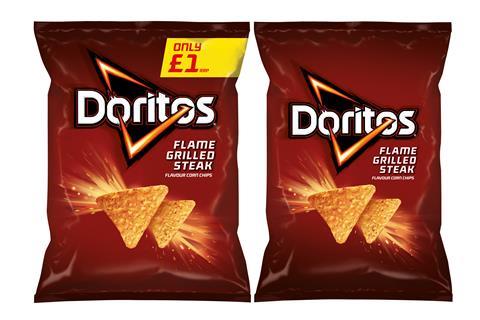 Doritos has added a flame grilled steak flavour to meet demand for meat flavours in the savoury snacks category. The crisps come in 180g (rrp £2) or £1 pricemarked 80g bags, and will be supported with TV, digital and shopper marketing activity.
Hot trends
Navin is on the right track as hot food to go tends to be more valuable for retailers, with an average basket value of £5.61, compared with £4.73 for chilled food to go (HIM/MCA, CTP 2018).
Mary Byrne, trade marketing manager at Aryzta Food Solutions, highlights the importance of the hot food-to-go sector. "Offering customers a good selection of hot food is a simple, cost effective way for convenience retailers to attract new shoppers and increase basket spend," she says.
Adelie Foods head of category marketing Wayne Greensmith also believes hot food offers great potential. "There has also been an increased demand for more hot food options for consumers on the move, and 45% of food-to-go shoppers would like a larger range of hot food-to-go products," he says.
Michael Freedman, senior shopper insight manager at Premier Foods, agrees: "One in three food- to-go shoppers typically buys a hot food item as part of their lunch, and we see significant opportunity to grow this further.
"Across both food-to-go specialists and leading supermarkets there has been a strong recent focus on adding grab-and-go, self-service hot food counters. Clearly, hot food counters can elevate appeal further, but this requires the right location, customer base and commitment from the retailer."
At Edinburgh convenience store chain Margiotta, a substantial investment in a new hot food-to-go project has paid off.
Elena Margiotta, merchandiser and operations manager assistant, says: "Across all seven of our stores, we as a whole have invested resources and time revamping our own fresh food-to-go offering.
"We looked at areas where we felt that the fresh products we were offering were simply not good enough and felt that to ensure the quality and consistency we required, we would need to invest heavily in our infrastructure, training and recruitment.
"So, with that in mind, we built a new food production facility of our own. At the same time, through our own catering company Margiotta Catering, we provide fresh food to go from our in-store kitchen at our Dundas Street store, and have recently recruited new chefs who are in the process of developing new and updated hot food-to-go ranges."
While hot food to go seems to be thriving across the convenience market, the most popular product remains sandwiches (HIM/MCA).
Navin says sandwiches are still the top seller for him. "Even with the rise of hot food to go, I can't see that changing any time soon. Rustlers is also a top seller," Navin reveals.
In Edinburgh, Margiotta produces an assortment of filled sandwiches, baguettes and wraps with both meat and vegetarian options.
"We produce our own sandwiches with a range of fillings, and we are always looking to improve on the recipes," Elena says. "Our kitchen on Dundas Street makes everything and then supplies it to the rest of the stores."
But while sandwiches may be a staple, today's shoppers are looking for more than an everyday choice, points out Dairy Crest commercial director Martin Tilney.
"A food-to-go range that offers only a lacklustre array of sandwiches, crisps and chocolate is no longer enough," he says. "As shoppers become more sophisticated in their tastes and demands, retailers need to adapt their offer to keep pace. Quality, freshness and variety are key drivers at the food-to-go mission."
Laura Sayer, head of direct to store at Costcutter Supermarkets Group, says stocking a strong range of sandwiches and wraps is "vital" to bring in the lunchtime crowd. "Our new range of Co-op own brand products includes classics as well as exciting flavour profiles such as chimichurri flatbread pockets."
Summertime specials from Urban Eat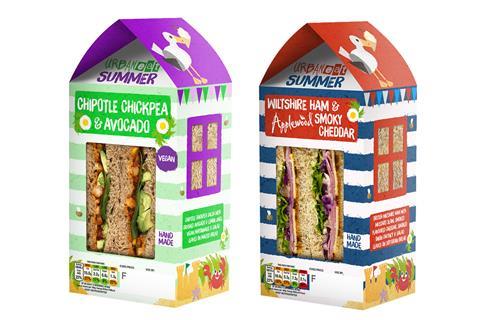 Urban Eat has created a range of sandwiches specially for summertime.
There are two handmade variants available in the range: a vegan chipotle chickpea & avocado sandwich; and a Wiltshire ham & Applewood smoky Cheddar sandwich. The latter combines British ingredients with a mustard slaw and a smoked onion chutney.
Commenting on the new range, Wayne Greensmith, head of category marketing at brand owner Adelie Foods, says: "Our seasonal specials continue to prove a huge hit. For our summer collection, the bright seaside beach hut packaging also brings colour and a point of difference to chillers, helping retailers to make the most of sales opportunities.
"Our innovation team are always looking at new ingredients we can use and different recipes to bring to market. We're really pleased to bring Applewood's smoky Cheddar cheese to our sandwiches for the first time and think these will be popular with shoppers."
He adds: "With the number of consumers looking for meat-free lunchtime options at an all-time high, we've opted to make our first avocado sandwich vegan, using a vegan mayonnaise.
"We introduced a vegetarian seasonal special earlier this year, which has performed even better than expected, while our first ever vegan Christmas option also proved a hit."
Urban Eat's new summer sandwiches will be available to retailers from 29 April to 18 August (rrp £2.79).
Better for you
Offering more healthy options can increase scope for further sales. When searching for a snack, more than a third (34%) of consumers look for a healthy product, while almost half (49%) say they would chose a savoury snack over a sugary option (Mintel 2018).
Katy Hamblin, marketing manager of Pipers Crisps, says the trend for healthier snacking shows no signs of slowing. "To meet this demand, Pipers has launched a new range designed to tap into the fast growing Better For You sector. The 'free-from' sector continues to grow strongly in the UK, too, and suitable products should definitely be part of the choice that is offered."
Navin has seen the rise in sales of healthier alternatives first-hand. "Healthy options are on the rise, for sure. There are a lot more healthy products out there nowadays, which means they are going to sell more," he says.
"We have a healthy food bar next to one of our stores, and it is very popular. While that might be a sign for some not to bother adding to their range, it just shows us that it is the future. Healthy options are popping up everywhere."
Tilney says health is set to continue as a huge priority for consumers in 2019, with almost 30% of shoppers wanting healthier options to be available within meal deals (HIM 2018).
He adds: "It is imperative for retailers to ensure they stock a variety of nutritious food-to-go options to remain competitive and cater to this growing demand. In particular, the growth in popularity of dairy-based snacking is one worthy of note and should influence retailers' stock outlay."
Whatever the food-to-go offering you go for, merchandising your food-to-go selection depending on the time of day is essential, according to Mondelez International trade communications manager Susan Nash.
"It's important for retailers to consider times of day when merchandising, to take account of the on-the-go mission. Breakfast and lunch are all about routine and convenience, whereas afternoon is all about hunger and wanting a treat."
Adrian Troy, marketing director at Barr Soft Drinks, highlights the importance of merchandising soft drinks alongside your food-to-go section. "Understanding your customer base and tailoring your soft drinks offering accordingly is key when it comes to driving sales," he points out.
"Lunch, drink and snack on-the-go are the most common convenience shopping missions. Throughout the day, the shopper is on different food-to-go missions – breakfast, drink, lunch (meal deal/non-meal deal), snack, leisure, and this has led to an expansion in products designed to target specific eating occasions.
"Soft drinks are an important part of a meal and consumers on a food-to-go mission are looking to maximise their enjoyment by complementing it with a great-tasting beverage. Retailers will see customers returning time and again by offering a wide range of soft drinks that cater to a variety of shopper needs."
Bite-size stats
£21.2bn
The UK food-to-go market is set to be worth £21.2bn in 2019 (HIM and MCA UK Food To Go Market Report 2019)
43.8%
Food-to-go now accounts for 43.8% of total eating out occasions – up 1.3 percentage points since 2017 (Food Spark)
84%
of sweet bakery occasions feature a drink, nearly 60% of which are hot (Kate Sykes, Lantmannen Unibake UK marketing)