Adelie Foods and Quorn are working together on a new collection of sandwiches and wraps designed to make it easier for shoppers to purchase meat-free options on-the-go.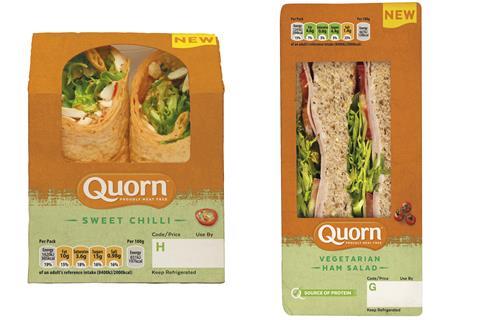 The plant based range comprises four sandwiches: vegetarian chicken & stuffing; vegetarian chicken salad; vegetarian ploughman's; and vegetarian ham salad, and two wraps: sweet Chili; and caesar.
All variants are made with Quorn protein and rrps start from £3.29. The products are available to TUCO and NUS University sites now and will rollout to convenience retailers nationwide in the near future.
David Guy, commercial director for Adelie Foods, said: "We're delighted to partner with such a leading and dynamic brand such as Quorn to bring these new products to market. Quorn is a signpost brand when it comes to meat free, so these products will be instantly recognisable, which will help to drive sales for the whole category, especially as more consumers consciously reduce their meat consumption."
Andy Smith, director of business development at Quorn, added: "The meat free category is currently largely centred around planning meals at home, but our research has shown there's a big demand for more meat substitutes and vegetarian options in the on the go channel. Our sandwiches and wraps performed brilliantly in consumer taste tests and we think our new range can increase awareness and sales for the lunchtime meat-free category.
"Our research shows 73% of our consumers are not vegetarian, demonstrating an increase in flexitarian diets and people looking to reduce the amount of meat they consume. Our mission at Quorn is to create delicious, healthy and sustainable ways for customers to take a 'less is better' approach to meat consumption. This new collection will make buying a tasty meat-free option when on the move more accessible than before."
Recent research shows that the most UK consumers (52%) are reducing their meat consumption in some capacity [YouGov 2018 data, commissioned by Quorn].