Today's shoppers want to have their cake and eat it as they demand healthier treats as well as indulgent luxuries in cakes & biscuits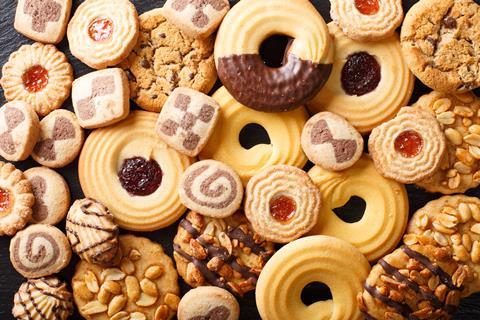 Taxing cakes and biscuits is the answer to Britain's sugar problem. Women are eating two biscuits too many a day. Is our office cake culture feeding the obesity crisis? These are just some of the headlines to make the national press over the past 12 months.
There's no question about it: with 13 million Brits now classed as obese, according to Diabetes UK, the country is in the midst of a health crisis – and cakes and biscuits are firmly in the firing line.
Yet headlines about obesity do not appear to have dented Brits' appetite for the sweet stuff. A whopping £610.4m-worth of biscuits were sold through the convenience channel in the past year, while cakes racked up an impressive £346.6m (IRI 52 w/e 9 November 2019). Both categories are in solid growth: biscuit value sales in c-stores are up 1.8% year on year, while cake sales have increased by 3% (IRI).
But behind those top-line figures, the shape of the cake and biscuits market is changing. With Public Health England wanting to see the average sugar content of cakes and biscuits come down by 20% by 2020 (an ambitious target that's unlikely to be met), many brands are making health-focused innovation a top priority.
Notable innovation over the past year has included sugar-free Maryland cookies, the first reduced-sugar version of Belvita breakfast biscuits with 30% less sugar, and McVitie's Granola Oat Bakes, which contain 35% less sugar than the average oat biscuit.
"The rise of healthy eating has also driven the need for products that make portion control easy for consumers, such as mini packs and on-the-go offerings," adds Suzie Carlaw, marketing manager at Border Biscuits.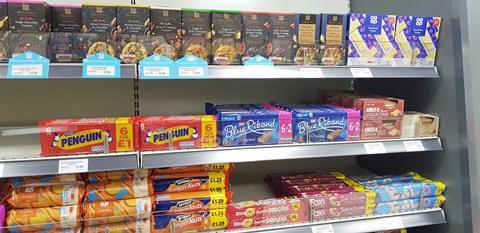 Border is catering for this trend with its 180g snack packs, while Burton's Biscuit Co last month unveiled the 'Under 100 Calorie Club', a marketing initiative featuring on-pack calorie flashes to make it easier for shoppers to identify lower-calorie choices. As part of the move, it has also reformulated its Maryland Minis Double Choc, cutting fat to bring them under the 100-calorie mark.
"We've been putting lots of work into portion packs and reducing sugar in our products," says sales director Jo Harwood. "The key things shoppers are looking for are reduced sugar or sugar-free and, for portion packs, hitting under 100 calories."
One retailer who has been embracing healthier lines is Sue Nithyanandan, who co-owns Costcutter Epsom in Surrey. "Customers are definitely looking for healthier options," she says. "I stock a whole range of gluten-free and low-sugar products now. There's wide variety these days in the sector, so wherever we can provide that extra option for customers, we try to do it."
Sue added sugar-free Marylands to her range earlier this year and while she doesn't yet carry much in the way of low-sugar cakes, she has noticed that customers are definitely paying more attention to nutritional information. "People do check the sugar content on the cakes," she says. "People look at the packaging more. They spend a lot of time browsing labels."
Demand for healthy treats is also up at Mace retailer Southcourt Convenience Store in Aylesbury. "The trend is going that way," reports owner Salinder Khera. "We're finding that some customers are even switching to cereal bars because it's healthier stuff."
Despite growing pressure on convenience retailers to embrace the healthier side, overall there's been very little change in the actual nutritional profile of the cakes and biscuits available in c-stores, suggests analysis from IRI.
"There has been less than a 1% average reduction in calorie, total fat, saturated fat, sugar and salt per 100g for biscuits within the convenience channel, falling behind other channels," says Milene Antal, IRI insight manager specialising in nutritional insights.
"As for cakes, average calories, total fat, saturated fat and sugar per 100g have increased vs a year ago. Again, these increases are higher in the convenience channel than other channels."
What's more, sales of low-calorie biscuits within convenience are down 2.4%, partly driven by a 10% drop in distribution, says Antal. "However, it is worth noting, both unit and distribution points for low-calorie products make up less than 1% of the total category."
Still, ranging decisions within c-stores are likely to face growing scrutiny as time goes on. With the obesity crisis set to remain top of the health agenda, the pressure will be on convenience retailers to prove they are willing to adapt ranges to do their bit in the fight against obesity.
Premium
Of course, health isn't the only trend in town. Indulgence remains a huge driver in cakes and biscuits, with many shoppers looking for premium, luxury options that are 'worth the calories'.
That's certainly the experience of Harj Dhasee, Nisa retailer and owner of The Village Store in Mickleton, Gloucestershire. While he hasn't noticed much demand for healthier options, he is doing brisk business with Co-op brand cookies ("the chocolate chip is the bestseller") and premium cakes.
"We have a whole metre dedicated to premium cakes, next to the bread, separate from the normal cakes," says Harj. "People are looking for a treat and want quality."
That craving for indulgence is opening up new opportunities across the sector. Premier Foods, for example, has identified a gap in the market for small, premium cakes with sophisticated flavour profiles that are targeted exclusively at adults. It's the reason why it launched the Mr Kipling Signature Collection last September, with variants such as chocolate, caramel and pecan slices.
"Research has shown that there is a key need for indulgent evening treats and rewards that the small cake aisle is currently underserving," says Steve Kelly, channel director for convenience and wholesale at Premier Foods. "And consumers are willing to pay more for an indulgent product that serves these occasions."
Shoppers' appetite for indulgence leaves retailers with a fine balance to strike, not least because the shoppers who are buying into healthier options often want real indulgence when they do decide to treat themselves.
In fact, nearly half of consumers believe high-sugar snacks can be enjoyed as part of a balanced diet (Nielsen), says Julien Lacrampe, trade marketing manager at Bahlsen, whose Choco Leibniz Milk has grown value sales by 40% in c-stores over the past year.
Susan Nash, trade communications manager at Mondelez International, agrees this balance is important. "While more health-conscious shoppers may be snacking or treating themselves less frequently, when they do look for a treat they're prepared to spend more on something that tastes great and they feel good about."
At Sue's Costcutter store, this trend is playing out in strong sales for luxury biscuits alongside the healthier fare she stocks. "The chocolate cookies, that kind of thing, are selling more than the regular Rich Teas and Digestives," she says. "We're finding a big uplift on the more luxury-type chunky cookies."
Meanwhile, Donna Morgan, joint owner of Best-one store Brownlie's of Biggar, South Lanarkshire, makes sure she satisfies shoppers' desire for health with a dedicated gluten-free section, as well as ticking the quality box with a range of locally-sourced cakes and traditional biscuits from the likes of Walkers and Border Biscuits.
"Borders are local to us, so we carry a big range and it does very well for us," says Donna.
However, retailers also have to ensure that high-end and low-calorie don't crowd out old favourites.
"It's important to remember that 80% of biscuit sales come from 5% of products in convenience stores," says Stuart Graham, customer marketing director at Pladis UK & Ireland, "so independent retailers should allow plenty of space for the best-selling biscuits."
The classics certainly play a big role for Salinder at Southcourt Convenience Store. He says it's the likes of custard creams and Cadbury Mini Rolls that find their way into baskets time and again.
At The Village Store, meanwhile, pricemarked packs of Wagon Wheels for £1 and Jammy Dodgers for 89p are going down a treat with value-conscious shoppers, says Harj. And Sue at Costcutter Epsom makes a point of appealing to price-conscious customers with a range of value-for-money cakes. "People are price conscious, so there are two markets I cater for: the more expensive, handmade cakes, or the more value lines of cakes. It's about 50:50."
At the same time, focusing on the core shouldn't leave retailers worried about making space for new lines. When Burton's launched sugar-free Marylands, there were concerns about the impact on space "because it's all about the core in convenience" says Harwood. "But we've found the reduced-sugar product is actually appealing to a different shopper. It's not cannibalising the core range, which is really important."
It seems to come down to having a diverse range available, and while health and wellness trends are important they aren't the be-all and end-all.
As with the best diet advice, retailers are finding that healthy sales in cakes and biscuits is all a question of balance.
Get in on on-the-go consumption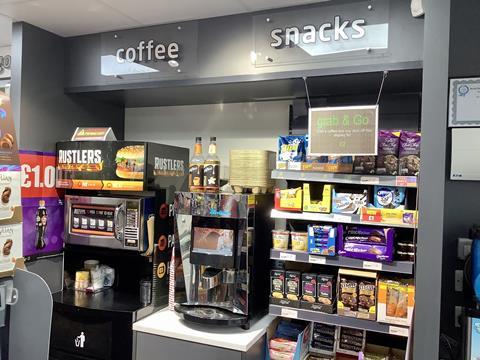 Health and indulgence aren't the only trends shaping cakes and biscuits right now. As shoppers move away from traditional eating patterns, snacking and on-the-go eating are becoming a big opportunity for c-stores, says Stuart Graham, customer marketing director at Pladis UK & Ireland.
"Nine out of 10 shoppers claim to snack multiple times every day, while of these one in 14 (7%) forego meals altogether and rely on snacks to keep them going," he says.
On a category-wide basis that adds up to a chunky £330m sales opportunity for biscuits within snacking, according to Pladis.
To make the most of this, smart merchandising is key. Tea and coffee lines – as well as hot takeaway drinks – continue to make great merchandising partners for cakes and biscuits. "Many shoppers buy due to temptation, so simply positioning products and concepts together can increase sales," says Jenny Bayliss, sales operations director at Delice de France.
Harj Dhasee, owner of The Village Store in Mickleton, Gloucestershire, is now siting some of his biscuits next to crisps after noticing that biscuits are being "increasingly bought as an alternative to crisps by the lunchtime crowd".
Susan Nash at Mondelez International recommends carrying a range near other on-the-go products to help build a full cross-category impulse range.
Appealing to today's gluten-free consumer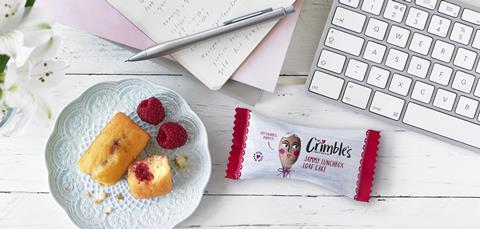 The needs of gluten-free shoppers are changing, with a growing number of consumers avoiding gluten not for medical reasons but because of more general health and lifestyle factors.
That points to a big opportunity for c-stores – one they're not yet making the most of, according to Bryan Martins, marketing director at Wessanen UK, the owner of Mrs Crimble's.
"Free-from is an area of the cake category which is often overlooked by convenience retailers despite the growing number of consumers adopting a gluten-free lifestyle," he says.
To help retailers address this, Mrs Crimble's has added new lunchbox loaf cakes to its range, which also reflect the wider trend towards portion and calorie control.
Nairn's is also seeing strong growth in gluten-free. "In particular, we are seeing growth driven by gluten-free snacking products, namely the Nairn's Pop Oats and Nairn's Oat Bar range, both of which offer an on-the-go option with the added health benefits of wholegrain oats, and significantly reduced sugar and salt," says national account manager Scott McPherson.
The firm has also added an oats, apple & cinnamon variant to its gluten-free Biscuit Breaks range. With 50% less sugar than other sweet gluten-free biscuits and containing just 63 calories a pop, the new biccie (rrp £1.75 for 160g) is "a more substantial biscuit bursting with flavour" says Nairn's.
Encouraged by growing customer demand for gluten-free cakes and biscuits, Donna Morgan of Brownlie's of Biggar added a dedicated one-metre section to her store this year and now dual-sites her gluten-free products. "It's resulted in a 15-20% uplift in that area" Donna reports.
Making the most of gifting sales
Christmas is over for another year, but that doesn't mean retailers should take their eyes off of cake and biscuit gifting. There are plenty of gifting sales to be had year-round – including Easter, Valentine's Day and everyday sharing and gifting.
When targeting gifting, it's important to offer shoppers choice and variety so they can be confident they're buying something that's sure to appeal. "Products offering a variety of biscuit types for sharing occasions are among our top-selling items due to the range of flavours and textures to tempt everyone's tastes," says Suzie Carlaw, marketing manager at Border Biscuits.
One retailer highly attuned to such opportunities is Donna Morgan, who runs Brownlie's of Biggar in Lanarkshire. She stocks a wide range of gift packs from brands such as Border Biscuits and Walkers to appeal to both locals and tourists.
Biscuit gift packs are definitely more than just a Christmas purchase these days, agrees Donna. "They do well throughout the year. We find people are buying them as an alternative to a box of chocolates."
Attractive packaging is key, not least because a 2018 Mintel study found that 51% of eaters of sweet biscuits and cereal bars agree that most sweet biscuit packs don't look good enough to give as a gift.