UK health officials are "as certain as ever that e-cigarettes are far less harmful than smoking" and have highlighted their confidence in UK regulations, as reports of vaping-related illnesses in the US and a high-profile case in the UK continue to circulate.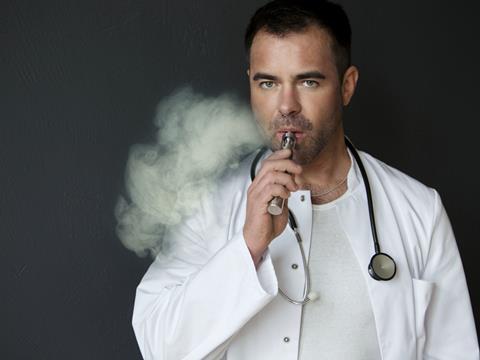 In an update on 13 November, the US centers for disease control (CDC) confirmed 2,172 probable lung injury cases associated with use of vaping products and 42 deaths in 24 US states.
It has recently identified Vitamin E acetate as "a chemical of concern" among vapers with associated lung injury (EVALI).
The additive, which is not permitted in UK vaping products, is used as a thickening agent in THC vaping products.
In the UK vaping products are much more tightly regulated than their US counterparts with a number of laws under the European Tobacco Products Directive.
Nicotine-containing e-cigs are also controlled by the medicines regulator, the Medicines and Healthcare products Regulatory Agency (MHRA).
Public Health England's (PHE) most recently updated Health Matters blog post states: "We are as certain as ever that e-cigarettes are far less harmful than smoking, which kills almost 220 people in England every day.
"Our concern is that the responses we have seen to the problem in the US and in other countries may increase the already widespread misunderstanding about the relative safety of nicotine e-cigarettes, deterring smokers from switching and risk driving vapers who have switched back to smoking.
"There is a real risk therefore that such a reaction will mean people continue to smoke, which will undoubtedly put lives at risk.
"E-cigarettes containing nicotine are more tightly regulated in the UK than in the US and our medicines regulator, the Medicines and Healthcare products Regulatory Agency (MHRA) is responsible for overseeing the tobacco regulations.
"The main chemicals under suspicion in the US such as THC and Vitamin E acetate oil are not permitted in e-cigarettes in this country."
However, the blog warned, it was possible that similar products to those in the US were available in the UK illegally, "which is why we are warning of this new and serious threat and continue to monitor carefully the situation in the UK".
Retailer view
Independent retailer Sid Sidhu, who has recently opened a vape store within his Budgens store in Kenilworth, Warwickshire, said UK consumers were being confused by reports on US health crisis.
"We're having to work harder than ever before to educate concerned shoppers about the key differences between the US and the UK markets," he said.
"UK consumer awareness of the US health crisis keeps on growing but understanding of it isn't and the tabloids are not helping the situation with the continuous stream of misleading scare stories.
"People's perception of the vaping category is being eroded because they don't truly understand the facts," he added.
TV personality Dr Christian Jessen has also entered the fray, posting numerous tweets in the past couple of weeks attempting to highlight the fact that "vaping is still considerably safer than smoking".
The story of a teenage boy from Nottingham who developed respiratory failure back in 2017, after suffering an acute immune response to vaping, was also widely circulated by the UK's national press this month.
Responding to the stories, the UK Vaping Industry Association said: "In this case, both the British Lung Foundation and the UK Centre for Tobacco and Alcohol Studies believe an allergic reaction may have been to blame. Thankfully, cases such as this are very rare."