A James Retail Group c-store in Sheffield is hailing the impact of a deposit return scheme for glass milk bottles, after more than three in four bottles were returned in the first year and sales massively outstripped those of plastic milk bottles.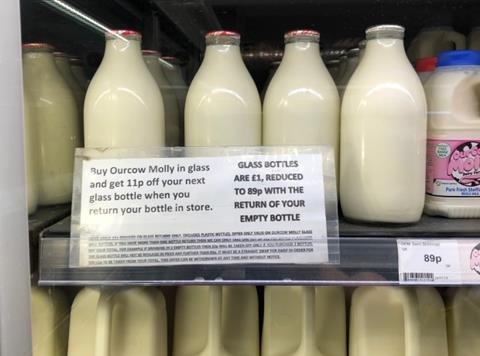 The Select Convenience store in Bents Green has been selling glass milk bottles from local supplier Our Cow Molly since April 2018.
The one pint bottles are sold for £1, but customers get 11p back when they return each bottle to the store – matching the 89p prices of an equivalent Nisa-supplied plastic bottle sold in store. The supplier collects the return bottles on a daily basis.
In the first year 3,782 bottles were sold and 2,924 were returned to the store, according to business manager Darren Smith, who looks after 24 James Retail stores in the North of England.
"Customers have massively gone for it, and they are driven by the environmental benefits," he told C-Store. "At the moment we sell about 80-100 a week and 65-75 get returned. In contrast, we sell about 10 plastic bottles which shows the demand for local products and plastic reduction.
"It's really boosted footfall and the margins are better anyway, so it's a win-win."
He said he would like to roll out the offer to other stores, but the supplier did not have the reach.
The majority of the 75 James Retail Group stores, which are owned by Jonathan James and based across the East Midlands and North West, operate under the Select Convenience fascia.