A number of independent retailers are leading a march on the multiples by capitalising on demand for glass milk bottles, as consumers increasingly look for alternatives to plastic.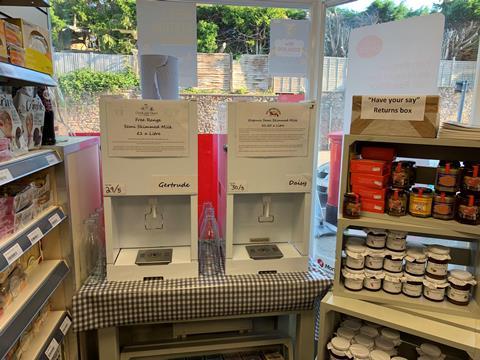 David Andrews, of Long Ashton Post Office in Somerset, has been selling 500ltr of refillable bottled milk a week since he launched his scheme in February – while plastic-bottled milk sales have fallen by 80%.
"We thought we'd only sell 50-60ltr a week," he said. "Customers buy a glass 1ltr bottle for £1 then fill it for £1, or organic milk for £1.20. The local Co-op came to find out what we're doing!"
Chaz Chahal said sales of glass milk bottles had "grown steadily" to one-third of all milk sales at his Simply Fresh Inkberrow store in Worcestershire, due to a "growing awareness of the need to cut down on plastic pollution".
No deposit is charged, but Chaz accepts bottle returns. "The system does have to be managed properly though. The crates for returning bottles have to be kept clean and prominently positioned at the front of the store so that its as convenient as possible for shoppers to return them," he added.
A James Retail Group-owned Select Convenience store in Bents Green, Sheffield, has enjoyed massive success since introducing a deposit return scheme for glass milk bottles over a year ago.
The one-pint bottles are sold for £1, but customers get 11p back when they return each bottle – matching the 89p price of an equivalent plastic bottle sold in store.
"At the moment we sell about 80-100 a week and 65-75 get returned. In contrast, we sell about 10 plastic bottles, which shows the demand for local products and plastic reduction," said James Retail business manager Darren Smith.
"It's really boosted footfall and the margins are better anyway, so it's a win-win."
Eddie Andrew, owner of local dairy Our Cow Molly, which supplies the bottled milk, said it was an "absolutely fantastic opportunity" for independent c-stores.
"We supply Morrisons and Co-op in Sheffield, but they haven't accepted my suggestion to take glass bottles – the multiples just don't have the infrastructure," he told C-Store.
Jai Singh, owner of a Go Local Extra store in Sheffield, said in he was about to source bottled milk from Our Cow Molly. "We're also going to do a deposit, but we need to sort out the practicalities such as storage. There's demand here for plastic reduction," he added.
Mital Morar, owner of Ancoats General Store in Manchester, said: "We've been selling bottled milk for a year. It costs 65p for a pint but with a deposit of 10p, so it's only 3p more than a one-pint plastic bottle. Most people who buy bottles seem to return them. "
Calls for action on Plastic Free day
Environmental campaigners are calling on people across the world to participate in One Plastic Free Day on 5 June.
Environmental campaign group A Plastic Planet is asking the public to take part in the event next month, by taking a photo of the one thing that they want to go plastic free and posting it across Twitter, Facebook and Instagram with the hashtag #oneplasticfreeday.
From Biros to drinks bottles, toothbrushes and bags, the photos can be of anything, and the results will form the basis of an interactive world map at oneplasticfreeday.com.