Independent retailers are responding to growing local demand to take action on environmental sustainability, as the public spotlight continues to shine on plastic pollution.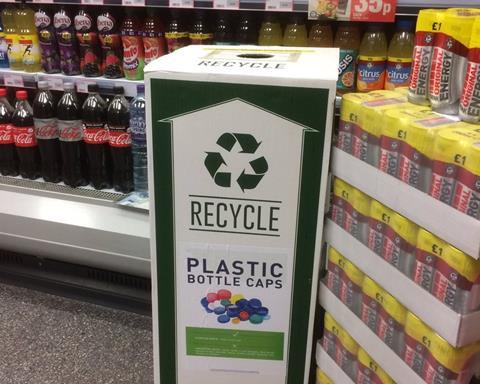 On Monday a primetime documentary series, War on Plastic with Hugh and Anita, begins on BBC One, following in the wake of the impactful Blue Planet series. In addition, One Plastic Free Day, part of the UN-backed World Environment Day, ran on 5 June.
David Andrews, who owns Long Ashton Post Office in North Somerset, has enjoyed a 35% sales rise after responding to customer requests for refill stations for shampoo, soap, detergent and bottled milk.
Les Gilbert, owner of Chard Village Stores in Somerset, has significantly boosted his footfall by installing an in-store bottle-top recycling bin.
"We sell about £50,000-worth of bottles every year, but we receive more bottle tops than we sell. We're offsetting the bottle tops we put into the system. It started as a marketing initiative, but the more we get in to it the more we want to do more," he said. "We're now thinking of doing bottled milk and in-store plastic bottle and can recycling bins.
"This month we had the highest footfall ever."
He added that he felt a responsibility after his local councils recently declared a climate emergency. "It's up to us retailers to see how much we can do. Local shops have to lead the way."
Dean Holborn, owner of two Holborn's stores in Surrey, said: "We've been selling loose fruit and veg with paper bags for about a year, which has gone down well except when the bags break!
"We've also launched a recycle hub for pens through the TerraCycle scheme, after a lady requested it. I was really surprised by the response.
"We're seriously considering introducing US-style paper carrier bags – providing the costs come down. If customers request action, we have the flexibility to respond if we can."
Scott Graham, owner of McLeish Inverurie in Aberdeenshire, said: "We are working with suppliers to reduce our plastic more so than ever, especially in food to go. We have to find different solutions. It is the right thing to do for all retailers. "
Andrew Porter, Eurospar Creightons group manager, Northern Ireland, added: "We sell a lot of coffee, so we placed an order for biodegradable coffee cups. We are also starting to use biodegradable packaging for our hot food and pre-packaged range."
Plastic avoiders more profitable
HIM research reveals that shoppers who avoid buying food products with a lot of plastic packaging are more likely to spend more in retail.
The company found that such consumers were 10% more likely to have spent more than £40 on their last visit to a retailer (HIM Omnichannel Tracker August 2018).
It also revealed that awareness around the effects of plastic in general is especially prevalent among Millennials, with 50% of 25- to 34-year-olds actively seeking information on plastic pollution, compared with just 19% of 55- to 64-year-olds.