Pret A Manger is to buy British food to go chain Eat and convert as many stores as possible to "Veggie Prets," as it seeks to capitalise on the growing demand for more vegetarian and vegan options on the high street.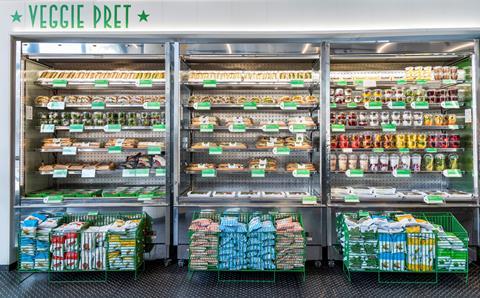 The first permanent Veggie Pret was opened in September 2016 and has since expanded to three further locations across London and Manchester.
Pret ceo Clive Schlee said the acquisition of Eat, which has just under 100 stores across the UK, would "turbo charge the development of Veggie Pret".
"The purpose of this deal is to serve a growing demand of vegetarian and vegan customers who want delicious, high quality food and drink options," he said.
"We have been developing the Veggie Pret concept for over two years and we now have four hugely successful shops across London and Manchester. The acquisition of the Eat estate is a wonderful opportunity to put significant resources behind it."
Demand for vegan and vegetarian foods is growing year on year in the UK.
In addition to half of consumers looking to consume more vegetables, 10% aim to switch to a vegetarian diet and 6% to a vegan diet in the next 12 months, the MCA & HIM UK Healthier Eating Report 2019 recently found.