Following demand for its new vegan and vegetarian products, James Hall & Co (Spar UK wholesaler for the North of England) has extended its plant-based food-to-go range with the addition of two new salads.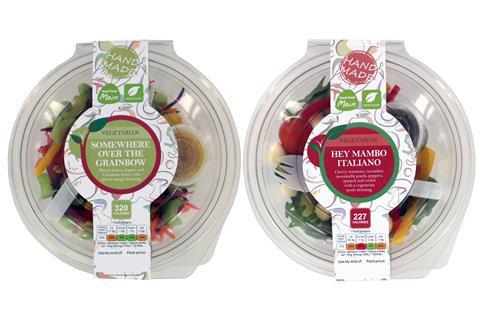 With quirky names and packaging, Somewhere over the Grainbow and Hey Mambo Italiano have been designed to meet increased customer demand for meat-free products.
Hey Mambo Italiano features Mozzarella cheese pearls, cherry tomatoes, spinach, rocket, cucumber and mixed peppers with a pesto oil dressing (170g).
Meanwhile, Somewhere Over The Grainbow is made with mixed grains (Bulgur wheat, lentils and quinoa), soybeans, beetroot sticks, diced celery, grated carrot, sweetcorn, sliced peppers, red onion with a spice mango dressing (228g).
Both salads are marketed under James Hall & Co's Great Northern Sandwich Company brand and have been approved by the Vegetarian Society.
Available to Spar retailers across the North of England now, the new products have an rrp of £2.75 each and will be included in Spar's £3.50 meal deal.