A man has been jailed for three years after threatening a store worker with a gun during an attempted armed robbery at a convenience store in Kent.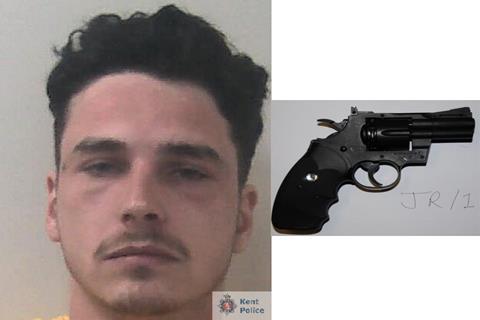 The incident happened at the store on High Street in the village of Wrotham at around 5:20pm on 15 May.
Kieran McCarthy, 24, pleaded guilty to attempted robbery, possession of an imitation firearm when committing an offence and possessing cannabis and was jailed for three years at Maidstone Crown Court.
According to Kent Police, McCarthy entered the store wearing goggles and camouflage clothing and approached the till area armed with a hand gun.
Without speaking, McCarthy used to the weapon to gesture to the female store worker to empty the till, before threatening her and a member of the public. The offender fled empty-handed.
Detective sergeant, Ash Bowles, said: "McCarthy subjected his victims to a truly traumatic ordeal, leaving one member of staff in genuine fear for her life. At one stage he was even seen to pull back the hammer on the gun.

"Thankfully we were able to promptly identify and arrest him and the evidence from our investigation was compelling and overwhelming, leaving McCarthy no choice but to plead guilty. The courts have now ensured he will serve a significant prison sentence."
The sentencing follows several recent incidents involving a firearm across the UK, including a man who threatened staff workers with an imitation firearm at an Aldi in Newcastle-upon-Tyne and an gun-wielding armed robbery at a store in Greater Manchester.
C-store retailers recently appeared on the BBC's Victoria Derbyshire show to highlight their experiences of violence and abuse against store workers amid cross-industry calls for government action.