Britain's free-to-use ATM network is on course to be decimated without urgent action, Which? has warned, after it revealed withdrawal fees were imposed on 1,700 machines between January and March alone.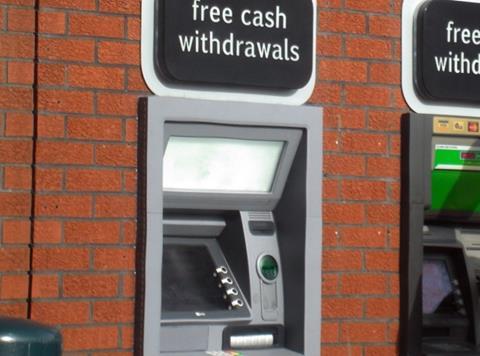 Fees of at least 95p per withdrawal are being imposed on formally non-charging ATMs at a growing rate, with 1,250 (74%) of these conversions having taken place in March alone, the consumer champion has revealed.
The catalyst for changes to ATMs has been Link's reduction of the interchange fee for ATM transactions.
The first reduction in interchange fees enforced by Link of 5% (equivalent to 1.25p per transaction) took effect on 1 July 2018, with the second 5% reduction taking place on 1 January 2019.
Most of the ATMs affected are operated by Cardtronics, which has also warned that it is likely to convert a further 1,000 machines to charge fees in the coming months.
NoteMachine, which in March said it had "no intention" of introducing charges, also warned that it was now considering converting up to 4,000 machines in its 7,000-strong network to charge fees.
The reduction of the Link interchange fee has put "extraordinary pressure on independent ATM operators, making many free-to-use ATMs economically unviable," NoteMachine chief executive Peter McNamara said.
"NoteMachine has always operated a free-to-use model wherever possible and we believe very strongly that ATM cash is a public utility which should be preserved as free-to-use for the benefit of the millions of consumers who have to depend on cash, both as a budgeting mechanism and for their day-to-day transactions.
"However, unless urgent action is taken to reduce the pressure on ATM operators by reversing the interchange fee reductions, NoteMachine will be forced to begin converting ATMs to surcharging.
"This is a dilemma we have been grappling with for some time and are extremely reluctant to make such a decision.
"But the current situation, which we also argue is the direct result of actions which fundamentally contravene existing competition law, cannot be allowed to continue.
"If it does, the whole system will collapse. This Which? research highlights the importance placed on free access to cash for all consumers and especially for vulnerable and isolated people, and it is NoteMachine's hope that the regulatory authorities, who have so far stood by and allowed Link to create this problem, will now take notice," he added.
If NoteMachine's plans go ahead, Britain could stand to lose more than one in 10 (13%) of its free cashpoints in a matter of months, the Which? report added.
The report, which also included a survey of 1,189 consumers, revealed that almost 85% would no longer use a cashpoint that had converted to fee-charging, meaning consumers face having to travel further to their nearest free cashpoint or being forced to find alternatives.
Commenting on the findings, Association of Convenience Stores (ACS) chief executive James Lowman said: "Link's decision to cut interchange fees was designed to reduce the number of cash machines operating in the UK, but with banks also withdrawing from high streets and town centres at an alarming rate, there are significant gaps appearing in provision, leaving convenience stores as often the only place where consumers have free access to cash.
"With hundreds of machines a month now either being moved to a pay-to-use model or taken away completely, access to cash is suffering irreparable damage.
"Action must be taken now to ensure that all communities in the UK can access their cash when they need it."
The Payment Systems Regulator is currently considering evidence ahead of the publication of an interim report at the end of 2019. In its annual plan, published in March, the regulator set out a number of priority areas, including 'monitoring the impact of Link's cut to interchange fees on the UK's network of free to use ATMs'.