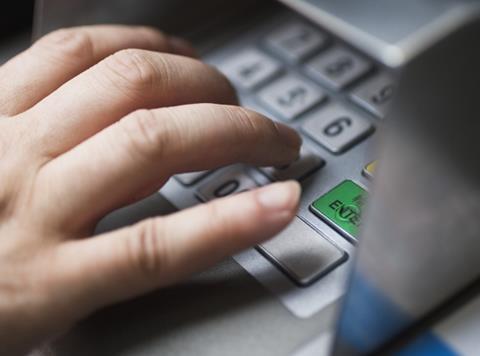 Independent retailers have hit out at the UK's largest ATM operator for imposing charges on their cash machines, claiming unfair treatment in favour of the multiples.
Cardtronics has imposed consumer charges of 95p on a number of c-store retailers' ATMs, without increasing retailers' commission. C-Store understands that Cardtronics' multiple customers, such as the Co-op Group, will maintain free-to-use ATMs for the time being.
Cardtronics has blamed the introduction of charges on Link, the UK ATM scheme, for introducing a 5% cut on interchange fees – the money banks pay to ATM operators. However, a Link spokesman said: "The reduction to the interchange fee which is paid to the ATM operator amounts to less than 3p. This does not seem to justify introducing a charge of 95p or more in convenience stores. However, this is a decision for Cardtronics."
One Londis retailer, who wished to remain anonymous, said Cardtronics introduced a 95p charge with six days' notice. "They said they'd review in a year, but by that time it could be too late and my customers may have moved on.
"We've got a four-year contract and it would cost about £6,000 to get out of it. ATM usage has dropped by 70%."
He added that Cardtronics told him charges would be introduced on Co-op ATMs at a later date.
Jazz Heer, of Costcutter in Sutton-in-Craven, Yorkshire, has also had a 95p charge imposed on his ATM. He suspected that his local Co-op's ATM would remain free, amid favouritism towards corporate customers.
However, a Cardtronics spokesman said: "The decision to implement a charge is taken on a case-by-case basis and reflects the economic viability of the individual machine."
Scottish convenience store chain Eros, which operates nine Nisa stores, is currently embroiled in a legal battle with Cardtronics after new withdrawal fees were placed on its formerly free-to use ATMs.
Owner Harris Aslam told Convenience Store that Cardtonics had de-branded one of his ATMs before remotely triggering the new 95p withdrawal fee.
"The first we heard of it was when customers came into the store to complain," he added. "Clearly this was a source of real frustration for shoppers which our staff are having to deal with."
He also hit back at Cardtronics' claim that the new fees were in response to Link's cut to interchange fees.
"The 5% reduction was proposed to happen in stages and as I understand it, it has been suspended after the first two anyway, so the actual reduction that they have faced has been minimal," he added.
ACS chief executive James Lowman blamed the charges on the interchange fee cut. "The introduction of charges for ATMs along with the removal of ATMs in some areas has come as a direct result of Link reducing the interchange fee that is paid to card machine operators," he said.
"Link must do more to ensure that the ATM network is viable for both retailers and card machine operators."
Cardtronics is calling on "immediate intervention from the Payment Systems Regulator and the Financial Conduct Authority" to find a sustainable long-term solution.
NoteMachine, the UK's second largest ATM operator, said it had no intention of introducing charges.
"The cut to the interchange fee has put pressure on our business, but levying surcharges is a race to the bottom and would just drive more people away from using cash," sales director Charlie Evans told C-Store.