CJ Lang has opened a new food-to-go-centred store in Glasgow city centre, which it describes as the first urban transient Spar store in Europe.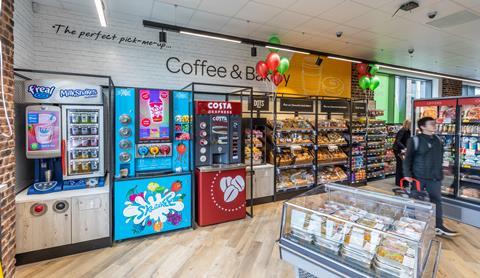 The new 2,000sq ft store is located on Havannah Street, close to student housing that is occupied all year round, as well as offices.
With opening hours from 6am to 10pm, the store features Spar's Daily Deli range, with a fresh menu of food-to-go as well as a self-serve chicken bar from lunchtime onwards, plus hot breakfasts available for students to grab and go.
There is also a substantial self-serve food-to-go offering, with a range of hot and cold products such as F'real Milkshakes, Skwishee, Costa Coffee and Dots Donuts.
The store features a wide range of Scottish products, as well as ethnic and international brands such as PK Foods, plus Chinese and American lines.
Spar Scotland's formats & merchandising director Jamie Buchanan said: "We want this store to be famous for food-to-go, with its modern range of healthy, fresh, convenient and environmental products all within the Spar brand.
"C J Lang & Son Ltd has worked closely with key Scottish suppliers and Spar national suppliers to create a store that fits perfectly with the Scottish market, while also meeting the needs of overseas students.
"The great range of take-home convenient meals and ambient grocery are ideal for quick and easy meals for international students and busy office workers alike," he said.
The store features both served and self-serve tills, in-store seating, free Wi-Fi and mobile charge points.