National Lottery retailers can expect increased sales this week thanks to the Lotto Must Be Won draw and a special EuroMillions draw, according to Camelot.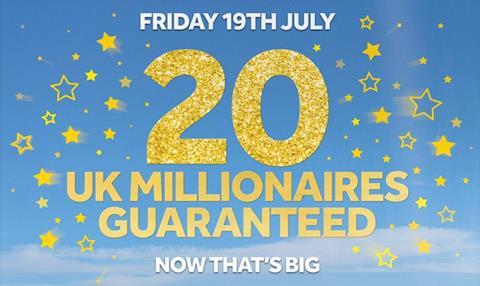 Wednesday's Lotto Must be Won draw, estimated at £12.4m, follows June's draw in which 140,032 ticket-holders scooped £96, instead of the usual £30, for matching three numbers.
Friday's EuroMillions special event draw will see £96m up for grabs, with 20 Millionaire Maker £1m winners guaranteed.
The point of sale (POS) for the EuroMillions draw is in store this week.
Camelot retail director Jenny Blogg said: "We're expecting increases in sales across the EuroMillions and Lotto games this week thanks to the Must Be Won and the special EuroMillions draw, which arrives at a time when the jackpot has rolled to almost £100m.
"There's a host of things retailers can do to get the most from this week, including ensuring that all new POS is out and sited in the most prominent locations, which includes ensuring media screens are visible at all times. It is also a great opportunity for all retailers and their teams to have conversations with customers about National Lottery products, Jackpots and anything else related to the exciting upcoming draws."