Pladis is to expand its Mini Cheddars bag snack range with a trio of Mexican-inspired flavour varieities.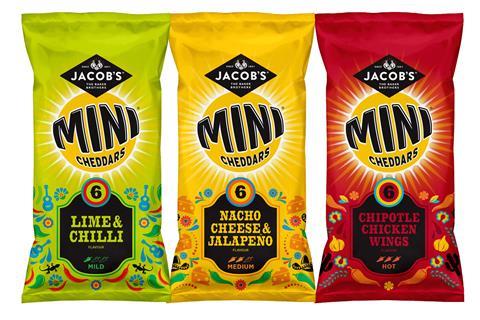 In ascending order of heat, lime & chilli, nacho cheese & jalapeno and chipotle chicken wings styles are expected to build on the success of the brand's recently-inroduced American cheese flavour and unlock incremental sales from younger shoppers.
Christopher Owen, marketing controller at Pladis UK&I, said: "We're seeing a whole host of global cuisines making their way into British snacks and – with 41% of consumers between 16-44 actively seeking spicy foods – it felt only right for Mexico to be the next stop on Mini Cheddar's world trip.
"We know that chilli is an important flavour within the crisps and snacks category, so with this new, spicy take on Jacob's Mini Cheddars, retailers have the opportunity to drive incremental sales by introducing the brand to new shoppers and re-engaging shoppers who may not have bought into the brand for quite some time. We're confident that the launch of Jacob's Mini Cheddars Mexican flavours will help the brand appeal to both a new generation of consumers, as well as existing Mini Cheddars fans seeking something a little bit different."
The new lines will be available in multipacks of six from the Co-op by late April, with an rrp of £1.89. Other multiple retailers are also stocking the products.