Seabrook Crisps has expanded its portfolio with the launch of a new Lea & Perrins flavour.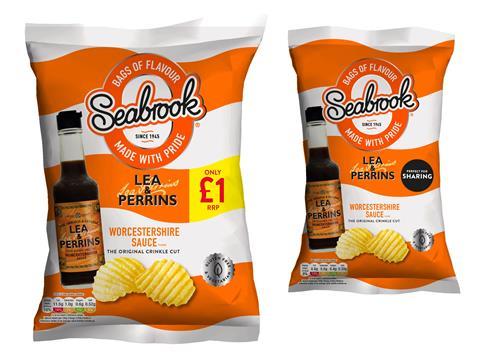 Based on the original 1837 Lea & Perrins Worcestershire sauce flavour, the new crinkle cut crisp is available in a 6x25g multipack, 150g sharing bag and an 80g £1pmp bag.
Jon Wood, commercial director at Calbee UK, said: "We've worked really hard to ensure the new flavour does not disappoint Lea & Perrins' fans and we're excited for people to finally try it. Lea & Perrins Worcestershire sauce is the perfect partner for Seabrook as it allows us to expand our audience through the familiarity of one of the UK's truly iconic table sauce brands.
"Since 1837, Lea & Perrins has been making this world famous sauce with an expert blend of ingredients to give that unique full flavour which consumers can now enjoy in Seabrook's Crinkle Cut range. We're constantly striving to create new flavours and products that excite the nation and we hope Lea & Perrins flavour does just that."
The new Lea & Perrins packs are now available in wholesale and cash & carry depots.