Kettle Chips has created a sweet chilli flavour made with a Thai-inspired recipe.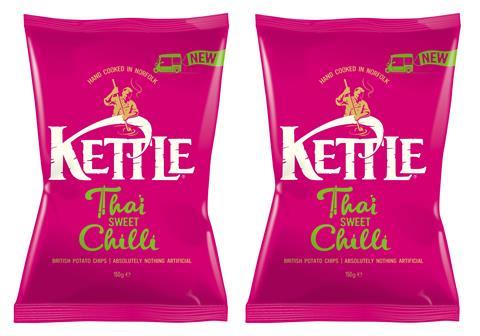 The new Thai Sweet Chilli variant of hand-cooked potato chips has been developed by in-house innovation chef Phil Hovey, using high-quality ingredients often found in authentic Thai cooking.
The company points out that as well as being the fastest-growing flavour in the crisp aisle (IRI Total Market Sharing Crisps and Snacks 52 w/e 19 May 2019), chilli brings a huge demand for innovation and variety, and consumers are looking to experiment with new ingredients, wanting more than just heat.
Hovey said: "The new SKU combines the perfect blend of Thai spices, bringing spikes of soy, star anise and coriander, complemented with bold chilli and an underlying sweetness to offer a delicate balance of this complex mix of flavourings."
Kettle senior brand manager Kizzy Beckett added: "We thought it was time to bring something more flavoursome and interesting to the table and consumers have agreed. When we first taste-tested our Thai Sweet Chilli crisps with consumers, we were amazed to see such a strong preference for our new recipe. Even our earliest product tests showed that consumers are 23% more likely to purchase Kettle Thai Sweet Chilli than the next market leader (Wirral Sensory Services product testing report: April 2019). There was a big gap in the market for a more authentically Thai seasoning from a trusted brand, which we have now filled."
The Thai Sweet Chilli chips are available now, rrp £1.99.
A nationwide marketing campaign will go live later this year, including TV idents, social media and PR.