The nutritious puffs, which are made from ancient supergrain sorghum, will appeal to those looking for a healthy snack.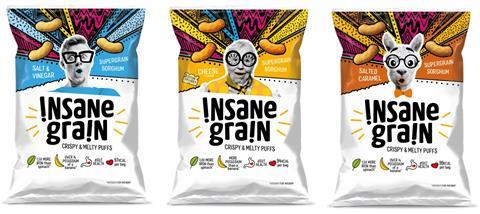 Offering multiple health benefits, sorghum is rich in potassium, iron, B-vitamins, dietary fibre and folic acid. It is said to promote gut health and have greater antioxidant properties than blueberries and pomegranates.
The probiotic puffs come in 24g packs in cheese, salt & vinegar and salted caramel flavours, rrp 99p. The range is all vegan, gluten-free and under 100 calories a pack.
Insane Grain founder and ex P&G manager Rushina Shah quit her corporate job to set up the snack business, joining forces with Nigel Parrott, who has over 30 years FMCG experience, having started and successfully exited his own company, Ape Snacks. Parrott brings direct experience in the snack market having sold the Wotsits business to Walkers and Niknaks to KP back in 2002.
Parrott said: "I am thrilled to begin a new journey with Rushina Shah on the development of this new powerhouse of a snack brand - Insane Grain. We have carefully built the brand to appeal to as many people as possible so all can benefit from the benefits of sorghum."
Contact Rushina Shah for stockist information.